Top birthday places in Saskatoon
Rainbow Cinemas & Magic Lantern Theatres
Movie fun for all your friends and family. The birthday party package includes admission to a matinee movie, kids combo treat pack (popcorn, drink, and candy treat), plus a loot bag. The Centre Mall 3510 8th Street east (306) 955-1937 rainbowcinemas.ca
PHOTO: istock photo
Mar's mini golf
Mar's mini golf has just offers just the kids what to celebrate their special day. The fun birthday package includes 3D glasses,45 minutes in party room, birthday boy/girl receives a free round of minigolf and a free return visit pass, choice of Mar's party balloons or tattoos, and choice of pizza or hot dog and drink. There is a minium of six people required at a rate of $16 a person all the kids will enjoy this glow in the dark experience. 
91-110 Marquis Drive West
Saskatoon, SK
306-343-6277
marsminigolf.ca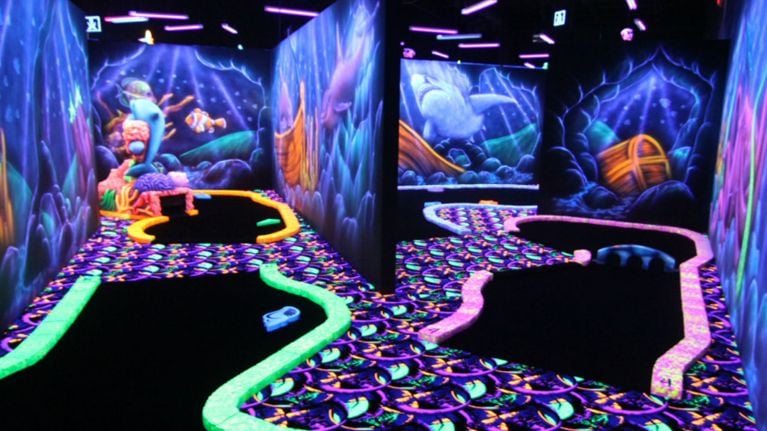 PHOTO: MAR'S MINI GOLF
River Country Waterpark at the Sheraton Cavalier Saskatoon Hotel
Birthday kids and their pals can zip down a waterslide or splash about in either the main pool or the children's pool at River Country Water Park at the Sheraton Cavalier Saskatoon Hotel. The cost is based on the age of the guests (though children ages three and under are free), and there must be at least six people attending the party and as many as 20 can attend. For kids ages four to six, the price is $7 per child; for kids older than seven, it's $15 per child. If a room at the hotel is booked up to five swimmers can access the water park for free. No outside food or drink—except for cake—is allowed, but pizza and pop are available to order.
612 Spadina Crescent East
306-667-0171
sheratoncavaliersaskatoon.com>
PHOTO: RIVER WATERPARK AT THE SHERATON CAVALIER SASKATOON HOTEL
Saskatoon Blades
If your child is a fan of this Western Hockey League team, then he will love one of the three birthday party options available for Blades games, which include eight tickets for kids and two tickets for adults. The team has partnered with Dairy Queen, so the goodies are from there. For $160, you get 10 blades tickets, ice cream cake and eight mini-sticks and novelty pucks. For $200 you get everything mentioned above and your birthday party will also receive a tour of the Saskatoon Blades dressing room. Last, but certainly not least, the deluxe package for $250 comes with the opportunity to high-five the Blades players as they enter and exit the ice.
PHOTO: SASKATOON BLADES
Can-Am Gymnastics
Looking for a birthday party idea for your active child? A Can-Am Gymnastics bash just might fit the bill. Kids get to spend one hour in the gym with an instructor, working their way through circuits that will have them jumping, rolling, hanging, swinging and bouncing. After they've worked up an appetite, it's time for 45 minutes in the party room, where they can enjoy food and drink (provided by the parents) and open presents. The cost is $175 for up to 12 guests, $200 for 13 to 18 guests and $225 for 19 to 25 guests. In the event the party needs to be cancelled $50 of your payment is non-fundable.  
3702 Mitchelmore Avenue
306-931-4038
canamgymnastics.ca>
PHOTO: CAN-AM GYMNASTICS
Children's Discovery Museum on the Saskatchewan
Kids ages one to 10 who love imaginary play will have a blast at a birthday party at the Children's Discovery Museum on the Saskatchewan. For $85, children get one hour to play at five hands-on exhibits, which include Construction Corner (where little ones get to plan cities and build them with blocks) and the North Woods Campsite (where they can play in a canoe, build and cook over a pretend campfire and hang out in a tent). Then everyone has 45 minutes to enjoy food (provided by the parents) and open presents in a private room. A host will help with set-up and cleanup. The museum remains open to the public for this party option.
Unit 116 Market Mall, 2325 Preston Avenue
306-683-2555
museumforkids.sk.ca>
PHOTO: CHILDREN'S DISCOVERY MUSEUM
Flip Saskatoon
The staff at this gymnastics playground is committed to letting kids have fun in a safe way. Birthday parties at Flip! last two hours and include one hour of instructor-led activities, such as musical games, trampoline play and floor exercises. Children with no gymnastics experience will have a great time at Flip!, too, since the activities are designed to be inclusive of all levels of expertise and the staff make sure to educate everyone on safe ways to use the equipment. After the kids have had their fill of running, dancing and jumping, they get to enjoy refreshments and cake (provided by the parents) and open presents in a decorated party room. The cost for a Flip! party is $150 for up to 10 kids.
410 Duchess Street, Unit 2
306-229-1776
saskatoonflip.com>
PHOTO: FLIP SASKATOON
The Fun Factory
A two-level play structure with tunnels, slides, ball pits and an arcade and a 1,200-square-foot laser tag arena will ensure that your child has tons of fun at a Fun Factory birthday party. The indoor playground is geared to kids ages 10 and younger (though to play laser tag, you must be seven or older). You can rent a private party room for $40 per hour, which includes a host, cutlery, punch for the kids to drink and 100 game tickets for the birthday child. Parents can bring their own cake or cupcakes, but no other outside food is allowed (though you can order refreshments, chicken nuggets, pizza and hot dogs from their menu). Admission is $7 per guest, and there is also an option to customize your parrty to suit the kids needs. Add-ons like meal for each ($5.25), loot bags ($4.25) and more are available.
1633 Quebec Avenue North
306-955-3778
thefunfactory.ca>
PHOTO: THE FUN FACTORY
Kindermusik with Kari & Friends
If your child likes to move to the music, then a Kindermusik birthday party will get them grooving. Parties at the studio are for kids ages one to six and include 15 minutes of free play with instruments, followed by 45 minutes of music-based activities, such as creative movement and instrument play, all led by an instructor. Parents can bring and serve cake after this part of the party. The birthday girl/boy will recieve a gift. The cost is $125-and 5-15 guests are permitted.
1020B Louise Avenue
306-370-8919
karismusic.ca>
PHOTO: KINDERMUSIK WITH KARI & FRIENDS
Saskatoon Soccer Centre
Active kids will have tons of fun at a party held at a Saskatoon Soccer Centre facility, with two party options available. Toddler-age soccer fans can have a birthday party during the indoor playgroup times, which run from September through May at the Saskatoon Kinsmen/Henk Ruys Soccer Centre. The cost is about $40, and there is no limit to the number of kids who can attend. Older kids can celebrate any time of the year with a one-hour field rental at the Saskatoon Kinsmen/Henk Ruys Soccer Centre or SaskTel Sports Centre. Options include hard courts, indoor and outdoor turf and beach courts, so they can play whatever type of field sport they like with their friends. The Saskatoon Soccer Centre offers various meal options, and parents can bring their own cake.
306-975-3423
saskatoonsoccer.com>
PHOTO: 2016 SASKATOON FUTSAL LEAGUE