Photo: Courtesy of Club Med Ixtapa
The key for parents to get an actual vacation out of their vacation? A killer kids' club, where you can drop the kiddies off and make like their chilled-out pre-kid selves for a few hours. Next-level programming makes it easier to get even leg-clingers to go for it. So which kids' clubs go above and beyond? We rounded up six cool and unusual kids' clubs in the US, Canada, Mexico and the Caribbean.
Photo: Courtesy of Club Med Ixtapa
1. Club Med Ixtapa Kids who dream of joining the circus actually can—for a day at least—at this all-inclusive on the west coast of Mexico. For kids 4 and up, a day at Mini Club Med includes flying high on a trapeze (if climbing up to the platform is too scary, it's fine to just watch too), juggling and jumping on a trampoline. The well-trained circus instructors also show up as performers in the nighttime show, which makes for an audience of starry-eyes kids. Adults can take a turn too with daily late afternoon lessons. Other kid perks at Ixtapa: Archery, tennis, basketball, cooking classes, kiddie pools and all-you-can-drink kiddie mocktails, as well as a nearby excursion to hatch baby turtles (for an extra fee). Time your visit to include a Tuesday, when local artisans set up shop on the resort. Circus school is also offered at other Club Med locations including Sandpiper Bay and Turks & Caicos.
Photo: Courtesy of The Ritz-Carlton Grand Cayman
2. The Ritz-Carlton Grand Cayman The Ritz has taken their kids' clubs around the world up a notch with Jean-Michel Cousteau's (son of marine royalty Jacques) Ambassadors of the Environment program. Whether taking underwater photography classes or workshops on ancient Hawaiian navigation techniques in Kapalua in Maui or having a close encounter with sea turtles in Cancun, budding naturalists will be all over these activities. The flagship program in Grand Cayman features kayak rides through the mangroves, submarine rides that go 100 feet in depth so the kids get a view of the reefs, and night snorkelling with flashlights.
Photo: Courtesy of Sea Island
3. Sea Island This lux resort on the coast of Georgia has been beloved by vacationers looking for a splash of old-school Southern charm with their holiday since 1928. Kids' activities include fishing and crabbing, archery, beginner horsemanship experiences (including grooming and riding), survival skills, where older kids learn to use a compass, build a fire and pitch a tent. Our favourite: a manners class taught by an etiquette expert because #TheSouth.
Photo: Courtesy of the Hyatt Regency Tamaya Resort & Spa
4. Hyatt Regency Tamaya Resort & Spa The large resort is located on 550 acres of the Santa Ana Pueblo and offers kids ages 3 to 12 the chance to experience the history of this culture at Camp Hyatt. Each day of the week is themed, including New Mexico Sunday, Tamaya Monday, Wildlife Wednesday, Farming Friday and Native American Saturday. Kids get to create their own sand paintings, play Native American games and explore the Rio Grande River—each craft and activity coincides with the theme of the day. The hotel also has other family activities like trail riding, Pueblo pottery making, adobe brick making, Native American stories under the stars, and oh yeah—hot air balloon rides!
Photo: Courtesy of Hotel Del Coronado
5. Hotel Del Coronado Located at the Pacific's edge near downtown San Diego, the DelVenture kids' program at the Del has offerings like science experiments, hula dancing, tent city (pitch it on the beach) and dinosaur digs, but the real appeal here is kids as young as four can take surfing lessons, and kids ten and up can learn to paddleboard. Hang Ten!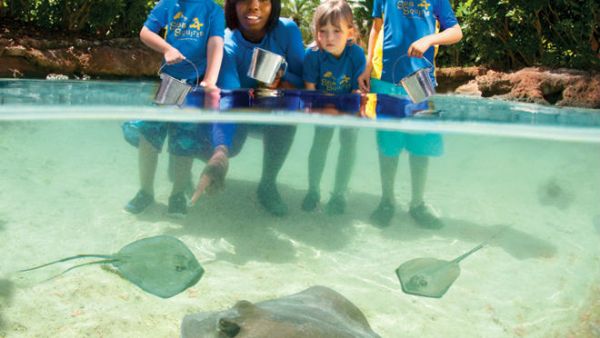 Photo: Courtesy of Atlantis: Paradise Island, Bahamas
6. Atlantis: Paradise Island, Bahamas The kids' club at this family-travel behemoth comes complete with a wizard-ing room that has a story-telling tree (natch), a life-sized dollhouse, state-of-the-art interactive game room, cooking classes for aspiring brownie bakers and a Lego room. Special weekly events include Kidz Kasino, where betting games include pig racing (for real) and Candy Carnival, with carnival games and creations, face painting (plus sno-cones and cotton candy of course!) Kids enrolled in the Sea Squirts program get to enter Atlantis' fish nursery and feed marine life like baby stingrays, sharks and schools of fish.
Some of the writer's travel costs were covered by Club Med. It did not review or approve this story.