Photo: Courtesy of Disney
"When you walk into Toy Story Land, you're transformed into toy-size—everything is large, and the guests are the honorary toys," says David Minichiello, executive creative director at Walt Disney Imagineering.
That's concept behind the new themed land, which is nestled into the back of Disney's Hollywood Studios, and that's exactly how my family and I felt when we entered—like toys playing in Andy's backyard. Colourful and immersive, the new land isn't massive, but there's lots to love.
Photo: Courtesy of Disney
1. Riding the Slinky Dog Dash roller coaster
This steel coaster, with a vehicle that's modeled after Slinky Dog from Toy Story, is arguably the crown jewel of Toy Story Land. It's a smooth ride that offers a great view of the whole Toy Story area, and while it's a family-friendly ride, it definitely offers some thrills. As an extra treat, when it's all over and you're waiting to disembark, you'll be entertained by a huge animatronic of Wheezy (the toy penguin from Toy Story 2) singing "You've Got a Friend in Me," just as he does in the film. We rode this ride twice—my tween liked it better than Space Mountain!
Photo: Kim Shiffman
2. Spinning around on the Alien Swirling Saucers
On this ride, guests experience being inside Andy's alien-themed play set, in which toy rockets spin you around outer space. At first glance, it looks like a spinning teacup-style ride, but it's gentle enough for the youngest riders (kids must be 32 inches or taller) and didn't induce queasiness in the, ahem, sensitive grown-ups on our trip (fine, it's me—ever since having kids, I can't handle rides the way I used to). My five-year-old loved the Swirling Saucers and asked to go again.
Photo: Courtesy of Disney
3. Competing (and cooling down) in Toy Story Mania
Feeling competitive? Sweating your brains out in the hot Florida sun? Head to Toy Story Mania, which is less "ride," more an indoor (read: air-conditioned) video game that's appropriate for all ages (even young children can sit on an adult's lap). You'll throw on some 3-D glasses, then climb aboard a spinning vehicle that travels through virtual environments and play video games inspired by classic carnival shooting games. The queue is nearly as fun as the ride—it's decorated with colourful life-sized toys, games and characters. This ride pre-existed Toy Story Land, albeit with a slightly different name.
Photo: Courtesy of Disney
4. Snacking at Woody's Lunch box
Open for breakfast, lunch and dinner, Woody's Lunch Box is Toy Story Land's quick-service restaurant—no reservation necessary. Thanks to a partnership with Babybel, you can grab something as simple and familiar as a cheese snack, or opt for a bigger bite off the menu, like the already-famous S'Mores French Toast Sandwich (the gluten-free version is rumoured to be among the tastiest GF treat in Disney). Woody's is highly accommodating to food allergies; like at all Disney restaurants, it's best to talk to a cast member and request the allergy menu before waiting in line.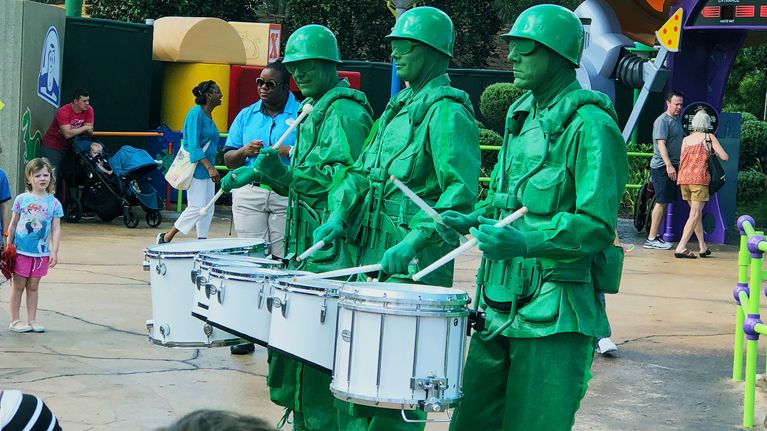 Photo: Kim Shiffman
5. Watching the Green Army Men Drum Corps
Whether you're snacking, wandering around or taking a break, your family will be entertained by a cast of characters who hang around Toy Story Land, including the Green Army Men Drum Corps, who drum in unison and had my kids wide-eyed and enthralled (me too, but I was also distracted, wondering how they handle the intense Florida heat in those costumes). Also keep an eye out for Woody, Jesse and Buzz. There may be a short lineup for a photo.
Photo: Courtesy of Disney
Face it, you can't get away with not buying merchandise when you're at Disney—it's all just so cute and well-made (not to mention ubiquitous)—so resign yourself to it. Toy Story Land shopping includes new toys and souvenirs like Buzz Lightyear Bubble Blower, Talking Slinky Dog, figurines, plush toys and apparel. You'll find two retail carts among the park—shaped like life-sized toy vehicles, they're hard to miss.
Photo: Courtesy of Disney
Someone on the Disney team clearly knows we're living in the age of social media, because Toy Stoy Land features plenty of Insta-worthy photo opps—starting with a massive Woody statue at the area's entrance. We also loved the popsicle stick wall, which you'll find as you exit Toy Story Mania, and the green alien outside the Alien Swirling Saucers. Use Disney's free Wi-Fi to upload your pics in real time.
8. Checking out the view of Star Wars: Galaxy's Edge
OK, so this isn't an actual feature of Toy Story Land, but if you're curious (and who isn't?!) about the new Star Wars land that's being built (rumoured to open in late 2019), Toy Story Land is a good place to sneak a peek. You'll see a bit of it standing in front of Alien Swirling Saucers, or for an even better view, keep your eyes open while on the Slinky Dog coaster.
Some of the writer's costs were covered by The Walt Disney Company (Canada) Ltd.
This article was originally published on Aug 31, 2018
Weekly Newsletter
Keep up with your baby's development, get the latest parenting content and receive special offers from our partners