Photo: Netflix
Netflix Canada has announced which new TV shows and movies it will be adding to its lineup next month and, of course, that means more options for kids! There are a bunch of titles to look forward to in June, including the new movie Wish Dragon and episodes of Thomas and Friends, StarBeam and LEGO Ninjago! Check out the full lineup with specific release dates below.
Best for: 6+ Longing to reconnect with his childhood best friend, resourceful teen Din meets a charming wish-granting dragon who shows him the magic of possibilities. Available June 11

The Secret Life of Pets 2
Best for: 6+ Continuing the story of Max and his pet friends, following their secret lives after their owners leave them for work or school each day. Available June 27

The Looney, Looney, Looney Bugs Bunny Movie
Best for: 6+ Bugs Bunny hosts an award show featuring several classic Looney Toon shorts. Available June 1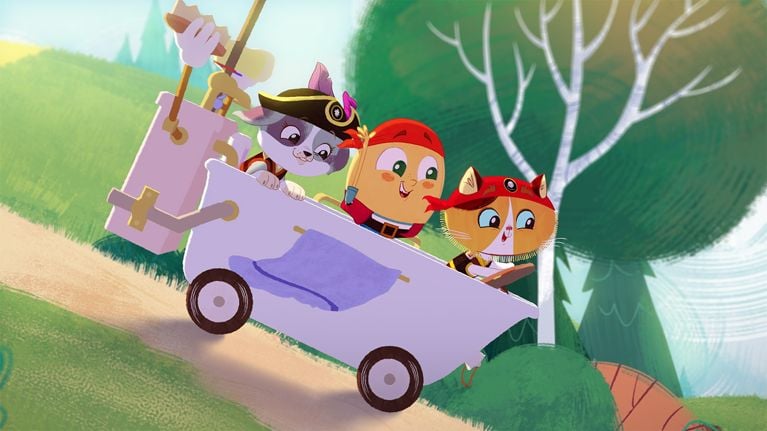 Photo: Netflix
Rhyme Time Town, Season 2
Best for: 3+ Best friends Daisy and Cole are back for more musical fun and adventure with their nursery rhyme pals, solving problems with teamwork and creativity! Available June 15

CoComelon: A Sunny Day for Play
Best for: 2+ In the town of Cocomelon, baby J.J. and his siblings go on fun everyday adventures that help preschoolers learn all kinds of things. Available June 1

Thomas and Friends, Season 24
Best for: 3+ Located on the imaginary island of Sodor, a place where every vehicle has its own characteristics, Thomas, a tank engine, and his friends face exciting adventures. Available June 1
Photo: Netflix
Best for: 3+ When villains come out to play, second grader Zoey transforms into StarBeam, a pint-sized superhero, to save the day. Available June 29

ALVINNN!!! And the Chipmunks, Seasons 1-2
Best for: 6+ A single dad has his hands full raising six rambunctious chipmunks. Available June 1

Power Rangers Dino Fury, Season 1
Best for: 7+ When an army of powerful alien beings is unleashed on Earth threatening life as we know it, a brand-new team of Power Rangers, fueled by the prehistoric power of the dinosaurs, are recruited to deal with the threat. Available June 15
Photo: Netflix
Super Monsters: Once Upon a Rhyme
Best for: 3+ From Goldilocks to Hansel and Gretel, the Super Monsters reimagine classic fairy tales and favorite nursery rhymes with a musical, magical spin! Available June 1

Best for: 6+ While fighting foes across Ninjago City and beyond, the ninja embark on new quests and gain newfound allies as the power of their friendship is tested. Available June 1
Photo: Netflix
Pretty Guardian Sailor Moon Eternal The Movie, Part 1 & 2
Best for: 10+ When a dark power enshrouds the Earth after a total solar eclipse, the scattered Sailor Guardians must reunite to bring light back into the world. Available June 3

Spider-Man: Far from Home
Best for: 11+ Following the events of Avengers: Endgame, Spider-Man must step up to take on new threats in a world that has changed forever. Available June 16

Netflix takes things off the platform every month, but this month only one kids show is getting the chop—sort of. The Italian-American animated show Winx Club only has seasons six and seven currently available on the platform, but on June 30th, season seven will be gone. Luckily there's still the whole month left to enjoy those episode if your little ones are fans. Everyone to the couch!
Weekly Newsletter
Keep up with your baby's development, get the latest parenting content and receive special offers from our partners