Photo: Netflix
Netflix Canada has announced which new TV shows and movies it will be adding to its lineup in the new year, and of course that means, more options for kids! There's a ton of titles to look forward to in January, including plenty of shows for preschoolers like Gabby's Dollhouse, Go Dog Go and Gigantosaurus! Plus, new seasons are coming for two big kid shows: Carmen Sandiego and Jurassic World: Camp Cretaceous. Who's ready for some screen time? Check out the full lineup with specific release dates below.
Photo: Netflix
Mighty Little Bheem: Kite Festival
Best for: 3+ An innocent toddler's boundless curiosity—and extraordinary might—lead to mischief and adventure in his small Indian town. Available January 8
Photo: Netflix
Carmen Sandiego, Season 4
Best for: 6+ From the snowy Himalayas to the pyramids of Egypt, Carmen and friends race to stay one step ahead of V.I.L.E. on their latest adventures. Available January 15

Best for: 9+ Richie Rich, the son of a billionaire businessman, must fight Laurence Van Dough, the top executive of his father's company who wants to destroy the Rich family. Available January 1
Photo: Netflix
Best for: 3+ Cute cats, quirky crafts and colorful magic! Join kitty enthusiast Gabby and her sidekick Pandy Paws as they team up for a series of animated adventures. Available January 5
Photo: Netflix
Best for: 3+ Handy and inventive pup Tag chases adventure with her best pal, Scooch, solving problems and helping the citizens of Pawston along the way. Available January 26
Photo: Netflix
Best for: 4+ In their fourth season, Wesley, Georgie and Pretzel go on more fun-filled adventures, solve mysteries and learn important life lessons along the way. Available January 19

Pinkfong & Baby Shark's Space Adventure
Best for: 4+ Follow Pinkfong & Baby Shark's space journey as they visit exciting new planets to help find Pinkfong's star! Available January 15
Photo: Netflix
Jurassic World: Camp Cretaceous, Season 2
Best for: 8+ The teen campers still on the run from dinosaurs find hope of a rescue with a small group of eco-tourists. But things aren't what they seem. Available January 22

Best for: 3+ Four curious young dinosaurs named Rocky, Bill, Tiny, and Mazu go on adventures while following their herd. Available January 21

Photo: Netflix
Best for: 7+ After being rescued by a loving couple, a stray dog must learn how to trust and accept her new family. Available in January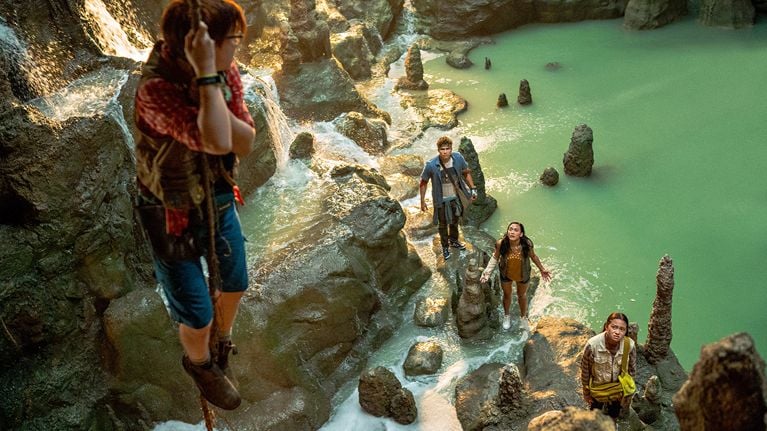 Photo: Netflix
Best for: 8+ A summer in rural Oahu takes an exciting turn for two Brooklyn-raised siblings when a journal pointing to long-lost treasure sets them on an epic adventure with new friends, and leads them to reconnect with their Hawaiian heritage. Available January 29
Photo: Netflix
Best for: 7+ On the eve of his 21st birthday, an adored prince must find his one, true soulmate before a spell takes away all love from his kingdom. Available January 8

Netflix takes titles off the service every month, including a handful of kids' titles in January. Mary Poppins Returns leaves Netflix on January 8th (but arrives on Disney+ on January 15th), Captain America: The First Avenger leaves on January 24th and the latter half of the Harry Potter series—Order of the Phoenix, Half-Blood Prince and both parts of The Deathly Hallows—leaves on the 31st. Luckily there's still plenty of time over the break to give them a watch. Everyone to the couch!
This article was originally published on Dec 16, 2020
Weekly Newsletter
Keep up with your baby's development, get the latest parenting content and receive special offers from our partners