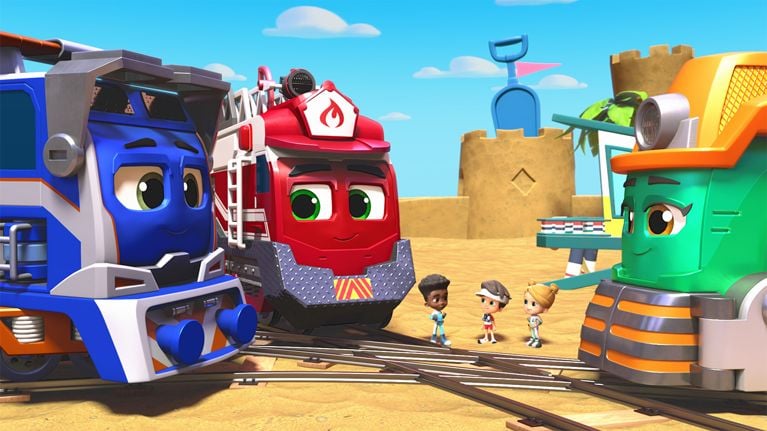 Photo: Netflix
Netflix Canada has announced which new TV shows and movies it will be adding to its lineup next month and of course that means, more options for kids! There's a bunch of titles to look forward to in February, including plenty of classic movie faves like Babe, Nanny McPhee and The NeverEnding Story. Guess it's time to introduce your kids to the movies of your childhood! Check out the full lineup with specific release dates below.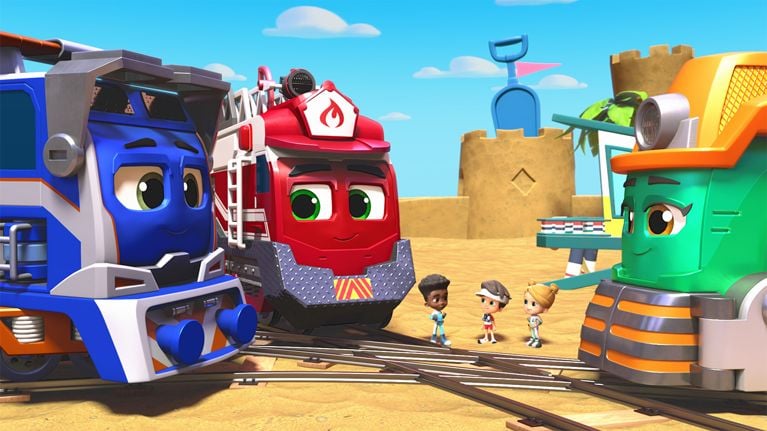 Photo: Netflix
Best for: 4+ The mega missions continue for the Mighty Express trains—from hauling giant dinosaur bones and a baby octopus to tracking down a hidden treasure! Available February 2

Cloudy with a Chance of Meatballs 2
Best for: 5+ Flint Lockwood now works at The Live Corp Company for his idol Chester V. But he's forced to leave his post when he learns that his most infamous machine is still operational, and is churning out menacing food-animal hybrids. Available February 1
Photo: Netflix
Animals on the Loose: A You vs. Wild Movie
Best for: 9+ When a protective fence enclosing a South African animal sanctuary unexpectedly loses power, Bear Grylls gets called in to help. An interactive special. Available February 16

How to Train Your Dragon: The Hidden World
Best for: 6+ When Hiccup discovers Toothless isn't the only Night Fury, he must seek "The Hidden World", a secret Dragon Utopia before a hired tyrant named Grimmel finds it first. Available February 28

Best for: 7+ A troubled boy dives into a wondrous fantasy world through the pages of a mysterious book. Available February 1
Photo: Netflix
Best for: 8+ Bigfoot's now a big deal. So when he goes missing, his shy but tech-savvy teen son must take on an evil CEO to save his family and a wildlife preserve. Available February 26

Best for: 5+ Babe, a pig raised by sheepdogs, learns to herd sheep with a little help from Farmer Hoggett. Available February 3
Photo: Netflix
Best for: 8+ In this animated series from the creator of The Powerpuff Girls, an odd, imaginative boy acquires superpowers after finding five cosmic rings. Available February 2

Teen Titans Go!, Season 5
Best for: 7+ Superhero roommates Robin, Cyborg, Starfire, Raven and Beast Boy love saving the day, but what happens when they're done fighting crime? Available February 16
Photo: Netflix
Best for: 6+ A girl, a dog and her best pal set out to save a mountain from a gold-hungry corporation. But the key lies closer to home, with her sidekick pup, Xico. Available February 12

Best for: 6+ A governess uses magic to rein in the behavior of seven ne'er-do-well children in her charge. Available February 3

Nanny McPhee and the Big Bang
Best for: 6+ Nanny McPhee arrives to help a harried young mother who is trying to run the family farm while her husband is away at war, though she uses her magic to teach the woman's children and their two spoiled cousins five new lessons. Available February 3

Netflix takes things of the platform every month, but this time no kids' titles are getting the chop! Everyone to the couch!
Weekly Newsletter
Keep up with your baby's development, get the latest parenting content and receive special offers from our partners