Volcano Bay. Photo: Courtesy of Universal Orlando Resort
Universal's Volcano Bay Of course wannabe Harry Potter's flock to Universal Islands of Adventure and Universal Studios Florida for the eerily-accurate Diagon Alley and Hogsmeade areas, but the latest addition to the park family is the mother of all waterparks, Volcano Bay. It's a massive, beautiful, Hawaii-esque waterpark—based on the culture of the imaginary "Waturi" peoples, who seems to be some sort of vaguely pan-Pacific Indigenous group. This means the more standard cartoon-coloured slides and bumping bass you'd find at your typical waterpark are replaced by a more relaxing thatched roofs+real-sand+palm trees vibe. And of course there's a massive volcano at the centre of it all!
There's plenty of loungers to be had, but if you're planning a full-day visit and are feeling flush, splash out on a shady private cabana—which includes towels, a snack plate and the ability to summon a waiter with the touch of a button (starts at around $160). You can also pre-book "premium seating," a pair of loungers under a canopy that also comes with a lockbox (starts around $30). Bigger kids will dig the Krakatau Aqua Coaster, which sends your four-person canoe through dark twists and turns inside the volcano, and the death-defying ika Moana raft slide. (I did it! I didn't die, but I may have terrified the nice Australian family I was riding with with my screams.) Littles and toddlers will be more interested in Runamukka Reef or Tot Tiki splash pads or chillaxing at Waturi Beach. If paying to rent towels ($5 a pop) annoys you, then bring your own. Be sure to create your profile for your TapuTapu wearable (a kind of magic, waterproof watch-like device) ahead of time so you can purchase food and drinks and rent towels without having to schlep your wallet all over the place. It also allows you to virtually "line up" for rides.
Pro tip: Don't be scared off if it's not a really hot  day—all of the pools are super warm, so even if it's not a scorcher, you'll still be comfortable (plus bonus: no lineups!). You can get a one-day pass or just visit for a few hours to decompress from the Universal Studios and Islands of Adventure craziness if you have a 3-park ticket. Like all Universal parks, if you stay at a Universal property, you get to enter Volcano Bay an hour before the general public. And if you do choose to stay at a Universal property, may we recommend…
Universal's Cabana Bay Beach Resort. Photo: Courtesy of Universal Orlando Resort
Universal's Cabana Bay Beach Resort I cannot stress how cute this 1950's and 1960's-themed joint is. We loved it all—from the midcentury modern room furnishings to the retro commercials they play on a loop on big screens overlooking the dining area. Located next to Volcano Bay, you can stay in one of the kitchenette family suites (sleeps six with 2 queen beds and a foldout couch that was actually comfortable (!) or in one of the rooms in the brand new towers that are closest to the waterpark. The suite buildings surround two separate pool areas, each with their own waterslides, plus a sweet sandy play area with ping pong tables, bean bag throws and, of course, hula hoops! Grab breakfast (food is nothing fancy, but good enough for my picky eater=good enough for me) at the cafeteria and gobble it up in the large, vintage-styled seating area, including booths that look like they came straight out of the movie Grease. There's also a fun 10-lane bowling alley and a small arcade. A complimentary shuttle bus takes you to the Islands of Adventure and Universal Studios parks, where there's the newish….
Skull Island: Reign Of Kong. Photo: Courtesy of Universal Orlando Resort
Skull Island: Reign of Kong ride Okay, real talk, my kid was too scared to go on this (or the recently re-launched Incredible Hulk Coaster), but it looked really cool. It's a virtual-reality tour through King Kong's home island, where treacherous prehistoric animals attack your vehicle from all sides. It all apparently feels and smells so real you'll believe that that dinosaur is actually misting snot down on your head. Now that's entertainment. A new ride based on the Fast & Furious movie franchise—Fast & Furious Supercharged, which will take guests on a "high-octane adventure into the world of underground racing" (I'm thinking it has to do with cars going really, really fast) is coming in 2018, and Universal Studios is also launching a new outdoor nighttime lagoon show that will feature animated characters, lighting and special effects. Next up is the opening of Universal's Aventura Hotel in August 2018. The 16-story glass tower will have 600 guest rooms, including 13 kids' suites, and a rooftop bar and grill with views of all three Universal parks.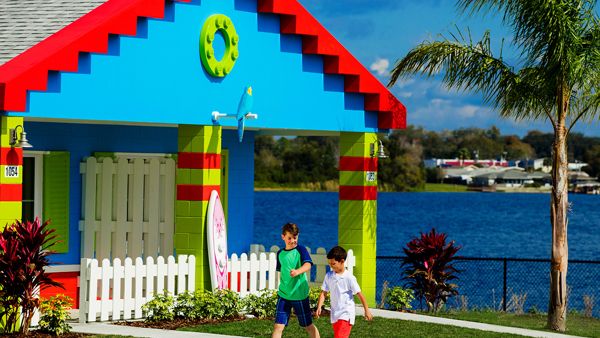 LEGOLAND Beach Retreat bungalow at LEGOLAND Florida Resort. Photo: Courtesy of Chip Litherland for LEGOLAND Florida Resort
LEGOLAND Florida Going to Legoland almost feels like a relaxing day at a county fair after the… EVERYTHINGNESS…of Universal. Best for the 2-8 year-old set, Legoland has upped its game this past year with the opening of the Legoland Beach Retreat rooms. Each "bungalow cove" area has it's own playground, there's a Lego-themed pool and your cabin looks like it was built out of Lego. What more could you want from life?! They also unveiled Lego Ninjago World, where aspiring ninjas and fans of the Ninjago universe can practice their mad skillz. In January 2018 they're launching The Great Lego Race VR Coaster, the first virtual reality roller coaster designed specifically for kids, and the new short film LEGO NINJAGO – Master of the 4th Dimension, which will play at the Lego Showplace Theater.
Madame Tussaud's Orlando. Photo: Courtesy of Leah Rumack
I-Drive 360 If it's a rainy day or you just need a break from all the outdoor Orlando madness, be sure to check out I-Drive 360, a new entertainment complex that includes The Coca-Cola Orlando Eye, a 400-foot Ferris wheel, along with Madame Tussaud's Orlando and the Sea Life Aquarium. Budding paleontologists will be all over Skeletons: Museum of Osteology and gamers will love the next-level arcade. Sugar fiends will lose their minds at Sugar Factory, where there are about a thousand options for milkshakes and sundaes like The World Famous King Kong Sundae which includes (among other things) giant lollipops, hot fudge, caramel and strawberry sauce, chocolate chip cookies and gummi bears. It's $99 and serves twelve people, but why not? You're on vacation! Another decent indoor spot is WonderWorks, a multi-level play area/science centre where you can also see the amusing nightly Outta' Control Magic Show. It's a kid-friendly dinner show, with surprisingly good all-you-can-eat pizza and salad (and vino for the grownups).
Na'vi River Journey. Photo: Steven Diaz
Pandora, The World of Avatar Okay, so Disneyworld's The World of Avatar opened in the spring and I didn't get there until winter, but giiirl, it was worth the wait. You don't have to have seen the movie Avatar to enjoy all the bioluminescent beauty of this rainforest-themed expansion at Animal Kingdom park. The marquee attraction is Avatar Flight of Passage, a virtual reality ride on the back of a flying banshee—it's like sitting on a breathing motorcycle—through the land of Pandora. Be sure to bookmark one of your FASTpasses for this baby. It's super popular because it's crazy good. Even my husband, who practically makes it his profession to not be impressed by anything came off gushing about it's awesomeness (kids need to be at least 44 inches tall to ride). A gentler, all-sizes ride is the Na'vi River Journey, where you glide down a river through the caves and glowing plants of the Valley of Mo'ara. You'll also want to check out the Rivers of Light after-dark water show, which combines live performances, floating lanterns, water screens and swirling animal imagery in the sky. Next up? Toy Story Land at Disney's Hollywood Studios, scheduled to open in summer 2018. Guess that will have to be enough to tide everyone over until the new Star Wars land opens Christmas 2019…
An Alamo rental car is included in many Sunwing Florida vacation packages. Some of the writer's costs were covered by Visit Orlando, Sunwing and Walt Disney Resorts. They did not see or review this article.