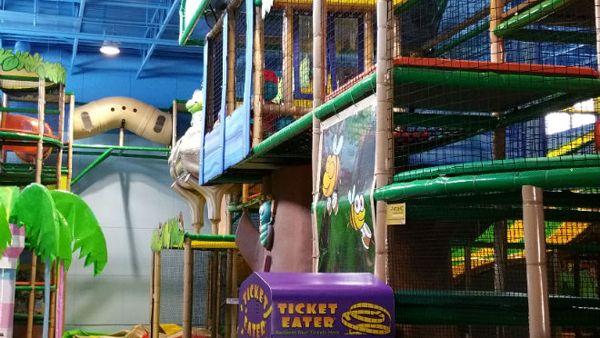 Photo: Treehouse Indoor Playground & Café
1. Treehouse Indoor Playground & CaféNature lovers from one to 13-years-old will be thrilled if you take them to this indoor playground. The massive treehouse-themed climbing structure features climbing tubes that look like caterpillars, wave slides, a punching-bag forest and more. Toddlers will have a blast in a separate padded area with a smaller climber and ball pit. Treehouse also boasts a bounce house, arcade, light-up piano floor, LEGO building room and rock climbing wall. There's a second location in Calgary with a similar setup and a third opening in Red Deer later this year.
2. Hide N Seek Slide fans will have the time of their lives at this play centre, which has six spots they can zoom down, including wave slides and an enclosed spiral. Rounding out the fun is an arcade, a two-level animal-themed obstacle course, trampolines and two ball pits. One ball pit is in the specially designed toddler area, suitable for kids younger than four, which has its own little climber, riding toys, soft blocks and mini-slide.
Go play: Hide N Seek 10830 170 St. NW Edmonton 780-482-7244
Photo: Tegler Discovery Zone at the John Janzen Nature Centre
3. Tegler Discovery Zone at the John Janzen Nature Centre What to do first? Your kid can climb around a birch tree, hide out in a toadstool, explore a beaver lodge, zip down a rockslide after checking out a squirrel den or wind their way through a tunnel-laden beehive. These are all the cool things kids of any age can do at the Tegler Discovery Zone, which is free with paid admission to the John Janzen Nature Centre. There's also a live observation beehive that lets everyone watch these helpful pollinators as they make their way outdoors to collect nectar and pollen. And there's no risk of getting stung—the beehive is closed off so kids can see the bees, but the bees can't get near the kids.