Photo: TrickyD/Sandman/FameFlynet
No sushi, no alcohol, no soft cheeses, not enough coffee...
Pregnant New Girl actress Zooey Deschanel, 35, is soooo done with pregnancy. Not only does she want to meet her baby already, but, as she told Jimmy Kimmel last night (Thursday, March 26), she also misses so many of her fave foods.
"You can't eat so many things when you're pregnant!" Zooey complained to Jimmy. "If I was vegan, I'd just be like...ohhh." (Of course, Zooey's older sister, Bones star Emily Deschanel is a vegan, and she's also pregnant—so that's where that comment came from.)
"You can't have sushi," she tells Jimmy. "You can't have cheese that tastes good. You can have a little bit [of]. But I'd have, like, four cups a day, and now I can have a half cup—which is a joke! It's a total joke!"
"You can't have alcohol," she adds. "I miss that—I like wine."
We feel your pain, Zooey!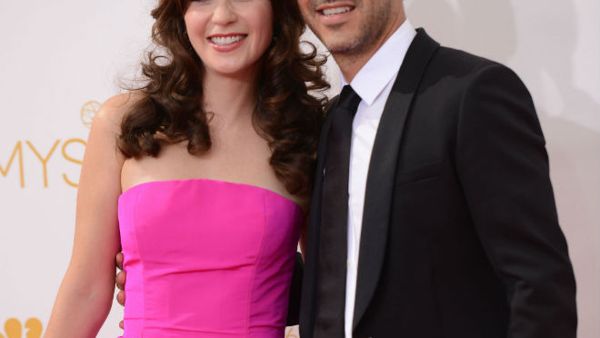 Zooey & Jacob at Emmy Awards, August 25, 2014. Photo: KM/FameFlynet
In the meantime, Zooey's ready to become a mom already. She's expecting her first baby with fiancé Jacob Pechenik—and they don't know if it's a boy or a girl. "We're going to be surprised," she tells Jimmy. "It's more fun. Make it into a game!"
What foods did/do you miss most during pregnancy?
Love! xo Haley-O Celebrity Candy: Follow along as Haley Overland delivers the latest scoop on celebrity families—plus sweet celeb interviews! You can't have too much of this candy, so check back often.