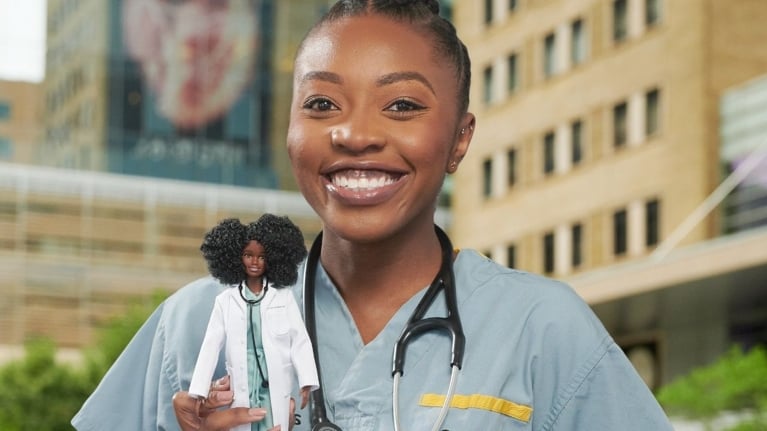 Photo: Courtesy of Barbie
Barbie has been one of the most popular toys for young girls since the doll was first introduced in 1959. And while kids around the world have played out their dreams and ignited their imaginations through the iconic dolls, not many can say they've had a Barbie made in their likeness.
But now, Canadian doctor and poet Chika Stacy Oriuwa can.
In 2015, Mattel launched the Barbie Role Models program, which selects incredible and inspiring women to honour each year with their very own doll. The goal of this program is to address what they refer to as the Dream Gap—the self-limiting belief that tells young girls that because of their gender, they can't be or do anything they want. One way to help close the dream gap is to give these girls incredible role models to look up to who are at the top of their game in various fields. This year, Barbie decided to honour women who have fought tirelessly at the frontlines of the pandemic. Lisa Perry, brand manager at Barbie Canada, explains that, "Dr. Oriuwa stood out to Barbie as someone in Canada whose work recognized the importance of children's mental health and systemic racism in the healthcare system."
Here are all the incredible women who are part of the Role Model program this year:
Like a lot of young girls, Oriuwa had a massive collection of Barbie dolls growing up. "It must have been my fourth or fifth birthday, I received...at least 15 Barbies." Out of all those dolls, however, she says she didn't have a Barbie that looked like her or who had the same career goals that she already had at a very young age.
"I didn't have a Black Barbie to play with, with my kind of hair texture," she says. "I would make the Barbies be doctors, performers and poets and all of the different parts of my identity that I knew one day I wanted to be able to bring to life."
Oriuwa knew from a young age that she wanted to be a doctor. Her lifelong dream started to become a reality in 2016 when she started at the University of Toronto Faculty of Medicine. As the only Black student in her class of 259 students, Oriuwa became an advocate for diversity and inclusivity in medicine. She has won several awards, is part of various organizations and associations, and in 2020 was named valedictorian of her class— the first female valedictorian in 14 years and the only Black female valedictorian ever. On top of her work in medicine as a psychiatry resident, Oriuwa is also an accomplished poet and public speaker. Suffice to say, Oriuwa encapsulates exactly what it means to be a role model.
Because of her childhood love for Barbie, Oriuwa describes getting her own doll as a surreal opportunity. "Being a Barbie role model for me really encapsulates the ability to continue to ignite the imagination of young children everywhere, and really being able to carry on that legacy that Barbie has of inspiring young children." She also feels like this doll is, "standing as a testament to the fact that Black women belong in medicine—this is what a doctor looks like as well," and hopes that the doll can act as a source of inspiration for young kids everywhere.
Although the Role Model dolls are not for sale, Barbie has a full line of career dolls, including a doctor, that help show young girls that they can be anything they want to be when they grow up. The Role Model dolls are intended to be part of a larger conversation around young girls achieving their dreams by introducing incredible women for them to look up to.