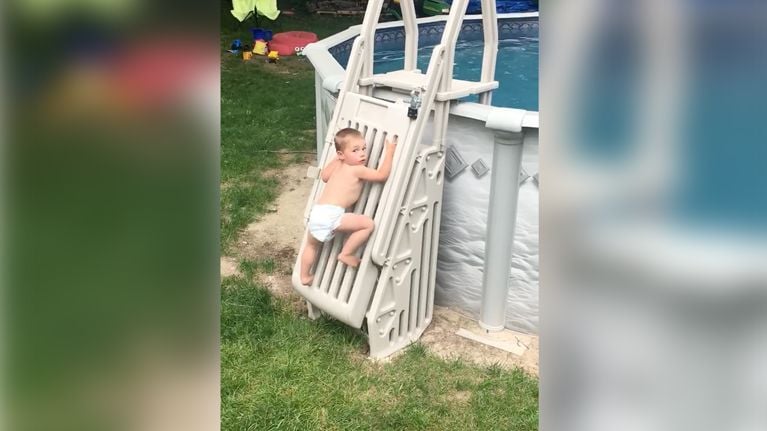 Photo: Keith Wyman via Facebook
Hanging out by the pool is the ultimate summer activity for kids. But while backyard pool parties can be tons of fun, they can also be dangerous. Earlier this month, American alpine skiier Bode Miller and his wife made the sad announcement that their 19-month-old daughter, Emmy, had drowned in a backyard pool, and if that wasn't enough to serve as a reminder to never take your eyes off your kids when you're near the water, then this recent viral video should do it.
The video, which was uploaded to Facebook by Massachusetts dad Keith Wyman, shows his two-year-old son climbing up a locked ladder that leads to their new above-ground pool. Yep, the ladder was covered and locked in an effort to prevent kids from accessing the pool, but as the clip shows, kids can be incredibly tenacious climbers. Take a look:
You have to appreciate this little kid's climbing skills, but the video—which has been viewed more than 20 million times—is also pretty terrifying when you think about how easily kids can get into a pool that parents assume is safely locked up.
According to Parachute Canada, kids should be actively supervised while swimming, and smaller above-ground pools and spas should be drained after each use (or at the end of the day). For pools that can't be drained regularly, fencing that's at least four feet high should be setup on all sides of the pool, with a self-latching gate that should never be propped open.
Remember that child drownings can occur very quickly and quietly, so unless you're actively watching your child, you may not hear them slip into the water and drown. The wild, loud splashing that some parents assume they'd hear if their child was struggling isn't actually the norm. Drowning is the second leading cause of injury-related death to Canadian children. Most drowning accidents are preventable, so taking the necessary steps will ensure your fun in the sun lasts all summer long.