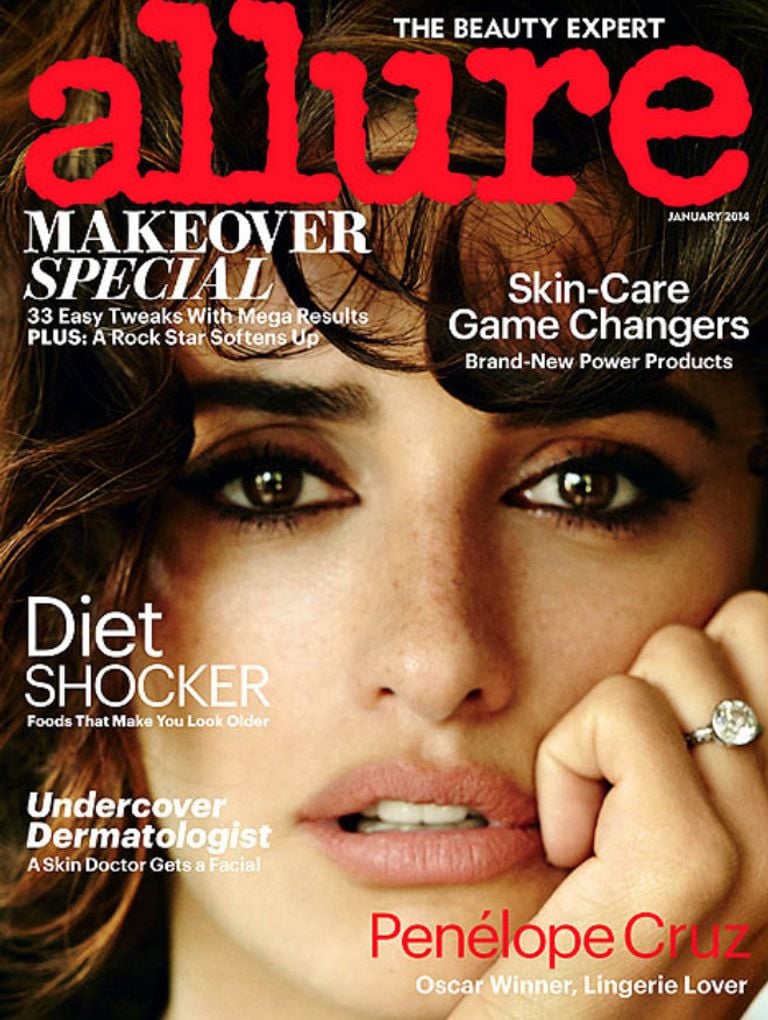 Photo courtesy of Allure Magazine
Penelope Cruz, 39, is the latest cover girl for Allure Magazine. Inside the mag, the beautiful Oscar-winning Spanish actress opens up about life as mom to son Leo, 2, and five-month-old daughter Luna with her handsome Oscar-winning hubby, Javier Bardem, 44.
Remember, she and Javier welcomed Luna the day the royal baby arrived? July 22! The timing couldn't have been better for the Spanish A-listers — they had all the privacy they could ever dream of, since everyone had their eyes peeled on the royal family.
But I digress. In this month's Allure, Penelope gushes about...breastfeeding.
"I'm supposed to get extra calories because breast-feeding you burn, like, an extra 500 a day," she tells the mag. "I was breastfeeding my son 13 months, and I plan to do the same with my daughter. [Nursing] is addictive. It's hard when the day comes when you have to stop."
Penelope also reveals one of her best friends is another one of our fave celeb moms — Mexican actress Salma Hayek, 47. "She's one of my best friends," Penelope shares. "We call each other huevos [eggs]. It was because when we were working together, we didn't have children yet, so we used to sleep much more than now. So it was a way to call each other lazy. We slept in the same bed so many times and it was like she was always trying to wake me up and call me huevos."
Penelope goes on to share details about her own childhood. She doesn't say too much more about life with Javier and the kidlets, but her engagement ring sure takes up a lot of space on the cover of Allure... So, we're thinking things are A-OK, to say the least!
It's rare that Penelope shares details of her private life, so pick up the January issue of Allure for the whole story.
Love! xo Haley-O Celebrity Candy: Follow along as Haley Overland delivers the latest scoop on celebrity families — plus sweet celeb interviews! You can't have too much of this candy, so check back often.