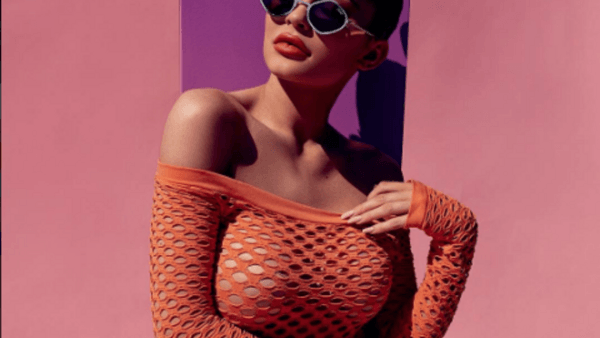 photo: via Kylie Jenner's Instagram
The Kardashian baby boom is in full swing with news that Kim (the famous one), Khloe (the funny one) and Kylie (the baby) are all expecting in 2018. Which means plenty of potential pregnancy related sub-plots for the upcoming season of KUWTKs. Take this recent story in People magazine that claims 36-year-old Kim (who is having her third child via surrogate), "didn't respond well at first," to news of the allegedly unplanned bun in her little sister's 20-year-old oven. And she's not the only one.
After catching wind of the KJ's pregnancy news, the never-subtle gossip blogger Perez Hilton posted his totally unfiltered video reaction, saying, "If I were Kris Jenner, I would tell her to have an abortion." It's a comment that seems—even to this die-hard reproductive rights advocate—equal parts offensive and absurd. (News flash, Perez—it's called pro-choice.) But Hilton's rant is not out of step with larger pubic sentiment around Kylie's pregnancy news, that has thus far vacillated between disbelief (as in, she's faking it for attention) and disgust (as in, how dare she?).
A bit of background: Kylie is the youngest daughter of Kris (Kardashian) Jenner and Caitlyn Jenner—the one who didn't appear in that infamous Pepsi commercial. According to a number of sources, including TMZ, CNN, People and Caitlyn's rep, she is about four months along. The dad is presumed to be Travis Scott, a 25-year-old rapper, who Kylie has been dating since April. And while neither parent-to-be has commented publicly, sources tell People that both are "really excited" about their pending parenthood. So why is a good portion of the Internet acting as if Jenner just announced plans to eat kittens?
It's likely that some of the vitriol comes down to her famous family—criticizing the Kardashians is the air we breathe. Still, that can't be the whole picture, since both Kim and Khloe (who's 33) are also with child, and no one's asking the world to "pray" for their babies. Nobody is accusing them of "ruining" the lives of their baby daddies or questioning their parental fitness. And perhaps that comes down to the fact that Kylie's greatest crime is not being rich and famous and a member of the most hated tribe since the Manson Family, but rather that she had the audacity to be pregnant and young.
Which makes her an outlier by today's standards: As of 2017, more women are having babies in their 30s than in their 20s and teens combined (this per a study by the American Center for Disease Control). Meanwhile, our society continues to take an increasingly narrow (and not-very-flattering) view of young parenthood—see, dozens of reality shows that make Keeping Up With the Kardashians look like AMC.
"We now consider someone having a baby in their 20s to be almost like teen pregnancy. It's barely socially acceptable," says Erica Berman, a Toronto-based psychologist specializing in fertility support. It's a growing field, with so many reproductively challenged women in their 30s and 40s seeking emotional support along with medical council. Following initial revelations about Kylie's pregnancy in the media, Lena Dunham tweeted that she had received texts from "a solid 10 friends" in their 30s saying they felt "triggered" by the news.
Berman—who has seen women struggling with infertility-related depression, anxiety and even suicidal ideations—is not surprised: "I see a lot of resentment. It's not just about celebrities—a lot of my [fertility-challenged] clients will have similar feelings about crack addicts who have five children and have them taken away and put into foster care." She offers the analogy of going three days without food and then having your best friend stand beside you eating potato chips. "I don't care how much you love her, you would kick the chips out of her hand, beat her to the ground and eat them."
But that's not quite right. Because if my best friend has the chips, she also has the option to share them. The same can't be said about a viable pregnancy, which means that, arguably, the frustration around Kylie Jenner's pregnancy is more akin to feeling angry because you didn't eat your own chips while you had them.
Of course, I'm oversimplifying. Not all infertility is attached to age, and plenty of women don't "decide" to spend their peak reproductive years on careers instead of children. Rather, they feel forced to wait because they can't find a partner and/or a stable source of income—one of the more common reasons millennials report for putting off parenthood.
But we're not talking about your average millennial. Regardless of what you think of Kylie's career, she has certainly had time to pursue one, and a successful one at that (see her $420 million makeup empire and reality TV gig). She also has tons of support from a family who appears to be extremely involved in each others' lives. She will be able to return to work when and if she wants to, or stay home, or do both, if that's her decision. In short, she will have both the community and agency that so many young mothers lack. And maybe that's part of what at least some of the haters are finding hard to swallow.
Because, unlike Kylie, most women who want to pursue career and parenthood face a series of choices around timing and priorities, and that's if they're lucky, since often our financial and relationship circumstances at any given time don't feel like choices at all. Increasingly, modern "mature" pregnancy is something women (and men) associate with hard work, heartache and a sense of personal failure, which may then be confounded by the fact that they didn't realize the extent to which their "chips" (so to speak) were in danger of expiring.
Last year the Society of Obstetricians and Gynaecologists of Canada released an updated set of guidelines around fertility and aging, in part to address the fact that many women remain under-informed when it comes to their own reproductive realities. Biology hasn't changed, but the number of us delaying pregnancy means more and more women are in need of the facts.
A lot of women think that if they delay child bearing, that they can use fertility treatments to boost their chances back [to]…unfortunately that's not the case," says Kimberly Liu, a reproductive endocrinology and infertility specialist who co-authored the new guidelines. Liu wants to see women armed with all of the information they need to make the decision that's right for them, which means having conversations with their doctors before facing age-related fertility challenges, at which point, "you are potentially left with fewer options," says Liu.
Of course, we can have all the facts in the world, and there is still no one right decision. Personally, I think 20 is a little young to become a parent. To my mind, the aging face of motherhood reflects the advancement of women in society—we are empowered when we have choices. Still, there is no denying that many of those choices come at a cost—sometimes greater than anticipated.
And then along comes Kylie Jenner with the booty of a Brazilian dancer, the bank account of a 75-year-old banker and the fertility of...a typical 20-year-old woman. It's no wonder that her mere existence might be cause for some extra self care and/or a stiff drink. But, in an era where judgment is to motherhood as Kardashian is to inappropriate side boob, maybe it's best to lay off the mean Tweets and just stop judging: both Kylie and ourselves.