Photo: 4CRNS/O. Duran/WCP/FameFlynet
Did you know Oscar winners Charlize Theron and Sean Penn are dating? Actually, I heard the rumours a few weeks ago (did you?), but I wasn't 100 percent certain until I saw some major PDA photos (link below)—so I thought I better share the news already!
Sean, 53, and Charlize, 38, have been friends for years, apparently, and only recently went public with their more-than-friends status. The two were spotted ringing in the New Year in Hawaii together, going on a romantic San Francisco vacay (January 26), grocery shopping at Whole Foods with Charlize's two-year-old son, Jackson (above), strolling around town, and just last weekend, at the beach, in Malibu, California. In addition to the sweet PDA, Sean's been getting in some nice bonding time with Jackson—and the dogs.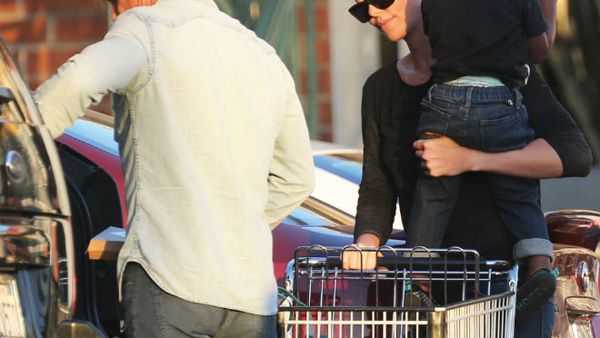 Photo: 4CRNS/O. Duran/WCP/FameFlynet
The stars haven't publicly announced their relationship—beyond the PDA—but CNN's Piers Morgan confirmed it in a blog post he wrote for The Daily Mail's Event Magazine, January 10, in which he shares a conversation he had with Sean, as follows:
"At 2 a.m., Sean came over and bear-hugged me. 'Congrats on a great night,' I said. 'And congrats on Charlize, too.' He laughed. 'She's a keeper, that's for sure... well, I'll do my best to keep her, anyway!'"
xo Haley-O Celebrity Candy: Follow along as Haley Overland delivers the latest scoop on celebrity families — plus sweet celeb interviews! You can't have too much of this candy, so check back often.