I had such a great time on the red carpet at Hello! Canada Magazine's big Toronto International Film Festival (TIFF) party at the Ritz Carlton Hotel -- on my birthday, September 10!
The party was filled with fabulous Canadian celebrities, and I got to interview a bunch of them.
Check me out on the red carpet with Today's Parent Magazine's Editor-in-Chief, the gorj Karine Ewart (left)!
And here's me and Chef David Rocco (handsome, huh?)!
David Rocco's a father to 3-year-old twins. You can check out his views on fatherhood HERE! I caught him on his way into the party, and I told him how much my 4-year-old loved his pancakes at the ONEXONE TIFF pancake event just the day before.... Here's David flipping pancakes with Flare Magazine's Editor-in-Chief Lisa Tant....
So back to the Ritz Carlton! I interviewed celebrity after celebrity during the 2.5 hours I was standing on the red carpet, and, though exhausting -- it was my very first red carpet experience, after all -- I had a BLAST. I talked about all sorts of things with the celebs and got sweet birthday hugs and wishes. Here are the parenting tips and quotes I got from the stars. CHECKIT!
Kim CoatesActor: Goon (premiering at TIFF), Sons of Anarchy. In 40+ films, including The Island, Black Hawk Down and Pearl Harbour. 2 daughters, ages 22, almost 18.
"Have dinners together. Just spend time with your kids. They're going to do what they're going to do, but spend time with them. They [Today's Parent readers] know that. Good parents know that. Spend time, love them, put up some parameters but love them. Be strict when you have to, listen to your kids. It'll all work out."
Tara Spencer-Nairn (wearing Donna Karan) Actress: Corner Gas, The ListenerExpecting first child, a boy, due early October
Here's Tara and her The Listener costar Lauren Lee-Smith. It's a terrible photo, I know, but at least you can see the Donna Karan dress! I'm still figuring out how to interview, record, take photos and tweet all on the red carpet -- all at the same time...!
"I have not been wearing maternity clothes. I've been trying to avoid it as much as I can -- except for shorts and pants. It's hard to find good maternity clothes that aren't a total ripoff. I've been shopping a lot at Joe Fresh....I'm pregnant in the summer, and I can just wear a sundress; I don't have to worry about all the pants and the layering. And I just feel prettier when I'm not wearing maternity clothes."
Yannick BissonActor: Murdoch Mysteries, Sue Tomas: F.B. Eye (2002-2005), Soul Food (2000-04): 3 daughters, ages 22, 20, 15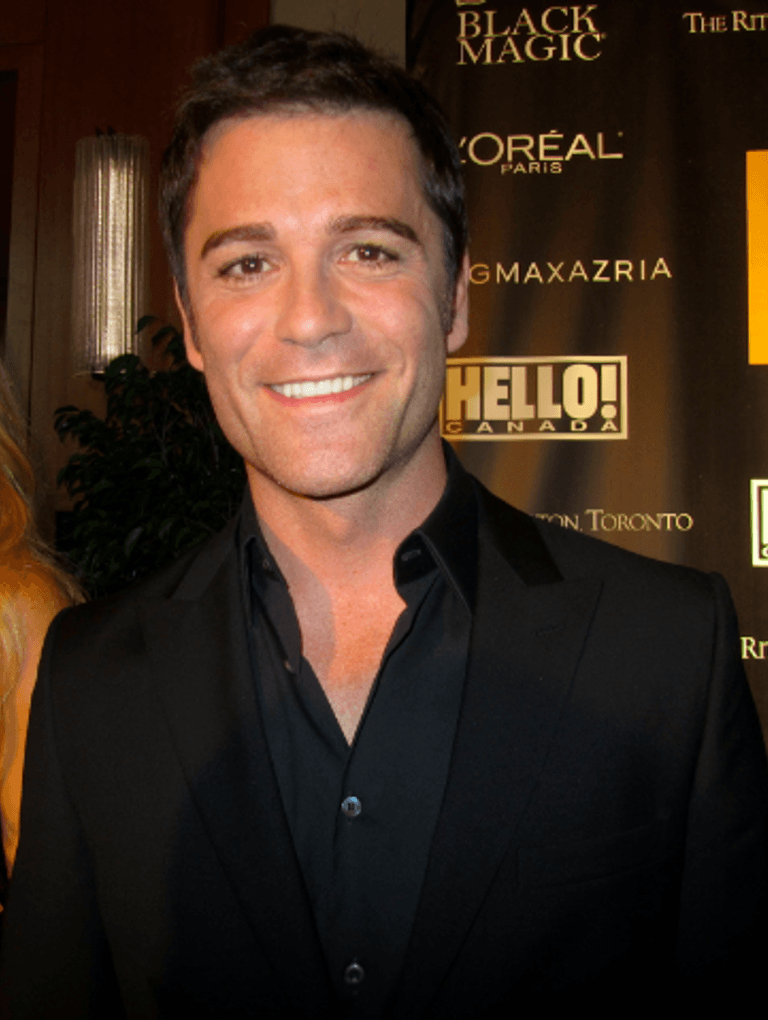 "When they hit 12 or 13 -- daughters -- you've got to stop being friends. You've got to be a parent, and you've got to figure they'll come back around at 17 or 18. Hold the line, speak up, and they'll appreciate you for it.... Be friends later. That's been the number-one rule around our house, and it's worked out. All three of them are super smart, talented and productive, and doing things with their lives, and have philanthropic aspirations -- and they're super cool, good-looking girls. But that's mostly thanks to my wife. I can't take all the credit!"
Howie DoroughSinger: Backstreet Boys! Manager: Neverest Son, age 2
Howie insisted I take a pictures of him and his newest project, the boy-band Neverest!
"I'm enjoying lots of moments. There are definitely moments when he's up 2, 3, 4, 5 o'clock in the morning that I don't enjoy too much but fatherhood's teaching me the biggest thing in life -- to be selfless. I'm finally able to find something that makes me wake up in the morning (besides my wife and the rest of my family) to go to work, and try to be the best role model I can for him, so he can follow my footsteps down the line."
Carlo Rota (Little Mosque on the Prairie, 24, Street Legal, Queer as Folk, Great Canadian Food Show) and wife Nazneen Contractor (24, The Border, Relic Hunter). Expecting their first child
Nazneen: "I exercise the same amount I always do, but actually less -- and not strenuously. We can't wait to have our baby. It's going to be the most creative thing we ever do! And we really like to stay at home, have dinner, and hang out."
Carlo Rota: [On] "Most people would find that for a pregnant woman, [Nazneen] does a high degree of exercise, but it translates into -- look at me, I'm speaking for her. But she feels good, she looks great, and it's inspiring to me.... [On what he's most looking forward to:] The sleepless nights and the joys that come with it. Anything else just pales in comparison to this. And we really love to stay at home in LA, so we're looking forward to that."
Check out Nazneen on the cover of the Winter edition of Today's Parent Pregnancy!
Dean McDermottActor, Reality TV star: Tori and Dean, Due South3 kids -- Liam (4), Stella (3), older son Jack (almost 13) -- and one on the way!
"Tori's ready to not be pregnant anymore. She's been kind of sick with this pregnancy. The baby's stretched out this way [horizontal] -- it's not curled up. So she's really uncomfortable. And being pregnant in the summer is tough, so she's ready.
[On Tori's recent appearance on Big Brother] Tori loved it. And that's the great thing about T. She loves her fans. And that guy on Big Brother is a huge fan. So when they called and asked, "Would you be interested?" She said, "Absolutely." She does anything for her fans."
See my complete interview with Dean (back in June) here!
Mashiah VaughnActress/model: Dussault Inc. 2 boys, ages 4, and "a lot older"
"If your child picks up swearing in any way, shape or form at preschool -- this actually just happened to my 4-year-old -- don't stop them from saying it. You just immediately replace the word with "bubble gum" or "Scoobie Doo." And, for instance, if you drop something in the grocery store and you say s-h-i-t, you immediately replace it with something else, and they repeat the other word. Never ever tell them "no, no, no" because the minute you say that, they're going to want to be defiant."
Then there's this guy.... I loved him. Rookie Blue and Saw star Lyriq Bent. Not a dad (to my knowledge) but soooo cute. As he was walking by me, he smiled that huge, contagious smile and joked, "You wanna take my picture? YOU wanna take my picture!" So funny and adorable. I had to take his picture. So, Gorgeouses, you wanna see his picture? YOU wanna see his picture!
Love!
Photos: Haley Overland / Todaysparent.com