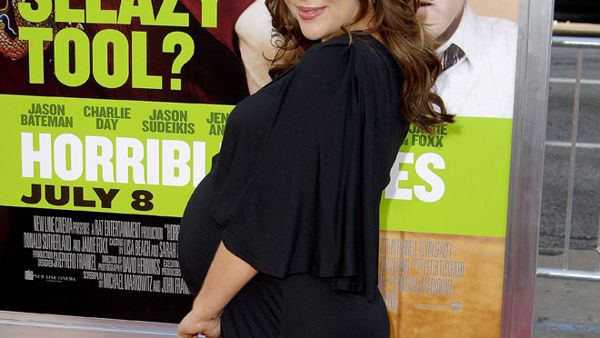 Photo: Picture Perfect / Rex Features
Alyssa Milano struck adorable pose at last week's premiere of Horrible Bosses, starring my now favourite actress Jennifer Aniston. (I have to tell you, Jennifer's my now-favourite-actress because I watched the movie Just Go With It three times this weekend and laughed hysterically every time -- possibly because I got a little too much sun, but also strongly possibly because of Jennifer and Adam Sandler's combined comedic genius....Digress.)
Alyssa's now in her third trimester, and I must say, she's looking fabulous! Third trimesters in the summer are not easy, right, Gorgeouses? I would know (elephant feet).
As always, Alyssa took to Twitter to talk about the black dress she wore to the premiere: "About to walk the red carpet at the #HorribleBosses premiere. I'm wearing black. Dog hair is white. Just noticed. Oops."
Though Alyssa's looking fabulous -- dog hair and all -- she's getting a wee anxious about the impending birth: "In my birthing class & hoping they don't make us watch more videos," she tweeted. "They make me sooooo anxious!"
Wonder if Alyssa will tweet less or even more when her baby boy arrives....