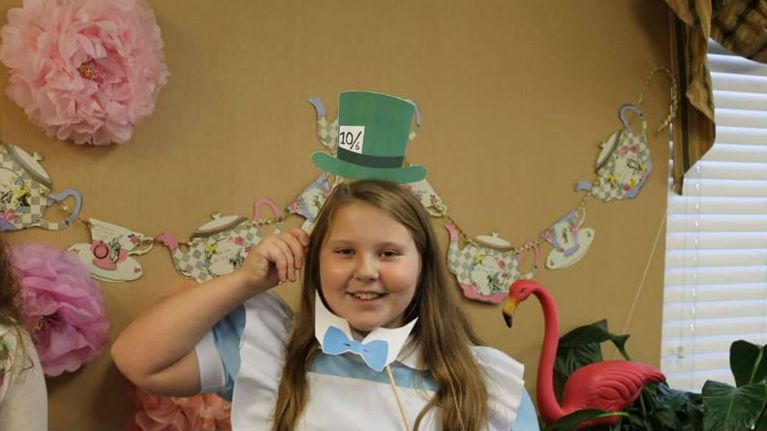 Photo: Courtesy of Kimber Boshers
When she found out her grandmother wouldn't be able to attend her birthday at a hotel in their hometown of Pulaski, Tennessee—she decided on an unconventional venue for her big day.
Ellie's mom, Kimber, told ABC News, "With her being a December baby ... we've always made her birthday parties a big deal. And as the party got closer and closer, she just got really upset one day and started crying." Ellie has spent every birthday with her grandmother, and didn't want this one to be any different, and so she told her mom, "If Granny can't come to my party, I just don't want to have it."
So they decided to move the party to the nursing home where her mother, Rita Blankenship, was recovering from spinal surgery at the time. She also had friends attend her special birthday party in some of their finest tea party attire.
Photo: Courtesy of Kimber Boshers
The fourth-grader said, "It's just hard to see her having such a hard time and I was just scared that something might happen and this might be one of the last events."
After arranging the Alice in Wonderland-themed party with the nursing home, the Boshers' decided to surprise Rita with their change in plans. She seemed extremely grateful for the thoughtful gesture—just look at how she's gazing at her grandchildren.
Photo: Courtesy of Kimber Boshers
It was quite the party—there was cookie decorating, pastries, and a very important tea party. Just look at that awesome decor!
Photo: Courtesy of Kimber Boshers
Ellie dressed as Alice, while her parents went as The Mad Hatter and The Queen of Hearts. Even her little brother was dressed as the White Rabbit.
Photo: Courtesy of Kimber Boshers
"I loved it. It was so much fun," Ellie said. "My favourite part was pretty much seeing the look on Granny's face."
If that isn't the sweetest thing ever, we don't know what is.