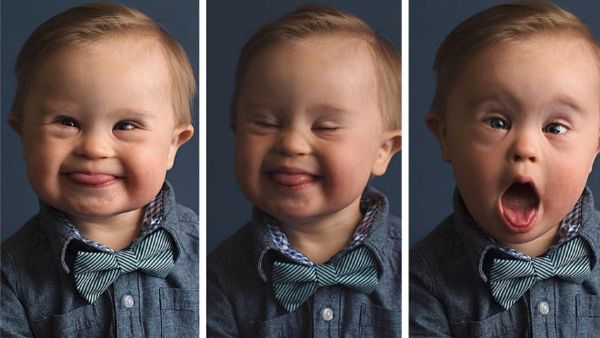 Photo: Courtesy of Asher's Down Right Perfect Facebook page
Meet 15-month-old Asher Nash of Georgia. His mom says he smiles whenever she takes out the camera. He radiates joie de vivre. Having cast many a kid model, I can tell you he has the big personality we look for. His mom thought so too, which is why she was disappointed when she submitted his pics to a modeling agency but they weren't passed on to the client, because they hadn't specifically asked for a special needs model. Asher's mom questioned that decision, and also took to social media to pitch the clothing brands her son frequently wears. And now he's been hired by Osh Kosh B'Gosh.
Osh Kosh isn't the first company to be inclusive in their advertising. Target and Fisher-Price have also hired models with differences. We have featured a child with Down Syndrome on our cover twice in the past couple years. The first time, we found our cover kids Pip and her brother Noal through the Happy Soul Project blog. Mom Tara McCallan has created a campaign around #differentisbeautiful, and after much discussion, we decided to publicize having Pip and her brother on the August 2014 cover in the hopes that it would give Tara a broader platform for her message.
A year later, we featured model Chelsea as part of a gaggle of kids in our September 2015 back-to-school cover and feature, this time without comment. We were her first official modeling gig, and she nailed it. We were thrilled she was able to walk away with fantastic shots to hopefully help her secure her next job. We wanted her in the mix simply because kids with differences are also in the mix of life, and exposure is the fastest way to break down stereotypes. The end goal is to have these types of images be no big deal.
We've taken steps to be inclusive in our image choice and we'd like to do even more. So just consider this an open invitation, Asher Nash and family: we'd love to photograph you if you ever come to Toronto!