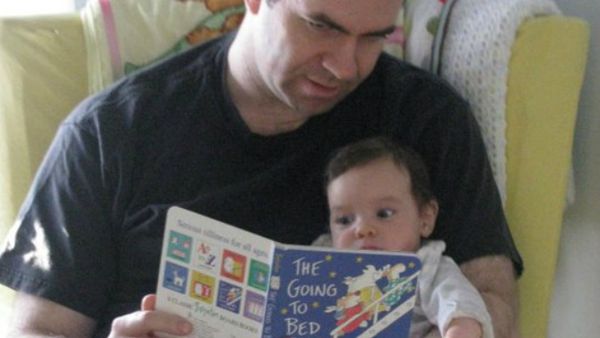 Tammy's husband, James, reads to Violet.
When my first daughter, Violet, was just a few weeks old, a dear friend included a high-contrast black-and-white board book in a care package she sent us, saying that it was the first book that her daughter had responded to. And so I propped my brand new baby on my lap and cracked open the book. Her big, curious eyes stared at the first few pages… and then she fell asleep. Still, I persevered, pulling out that book—and the others we'd already amassed—each day, reading the few words on each page and pointing out different things in the pictures. And one day, when she was just a couple months old, I was rewarded: Violet scanned a picture of a school of fish, her eyes darting around the page.
According to a new study by US-based children's publisher Scholastic, it turns out I was in the minority; only 30 percent of parents said they read aloud to their babies before their little ones were three months old. Sure, it may feel silly reading to babies who would rather chew on the book than follow the story, but numerous studies say reading with babies from birth helps stimulate brain development and strengthens parent-child bonds, which is one of the essential building blocks for language, literacy and social-emotional skills.
Overall, the study shows kids are reading less, with the number of children aged 6-17 who read books frequently for pleasure down six percent since 2010. The biggest drops are in male readers and all readers over the age of eight. The good news is that a few simple tactics can help you raise kids who love to read.
Stay in the gameParents naturally stop reading aloud to their children as kids get older and can read on their own. The study found that 54 percent of kids aged five and under had book-reading sessions five to seven days a week, which declined to 34 percent of kids aged 6-8, and only 17 percent of kids aged 9-11. But this is one of the things that can encourage young readers to pick up books all on their own. And moreover, 40 percent of kids between ages six and 11 actually don't want their parents to stop the daily storytime ritual, mostly because they consider it a special time spent with their parents. This is good news for me, since I'm anxious to introduce Violet, now four, and her sister June, 2, to the fictional worlds that shaped my childhood, including P.L. Travers' original Mary Poppins series, Beverly Cleary's canon and, of course, Anne of Green Gables! (My husband has already called dibs on Canuck author Gordon Korman's classic Macdonald Hall series.)
The tipping pointAnother reason to keep the reading-together routine consistent even as your kids become independent bookworms is that the study shows that the percentage of kids who enjoy reading for fun drops after age eight, with fewer than 50 percent saying they enjoy it, compared to 62 percent of 6-8-year-olds. Sounds like the perfect time to introduce your little wizards to the wonders of Harry Potter or one of our top 10 book series to read before you're 12 to help keep the spark alive and, ultimately, keep kids reading.
Squash the screen timeNot surprisingly, the study reports that frequent readers spend less time in front of a screen watching TV shows or movies, playing games or using smartphones and social media. (Mental note: create a screen time cap for my kids.) Couple this with the fact that parents who are book lovers raise kids who are book lovers, and you've got a good case for putting down your smartphone and picking up a book alongside your offspring.
Violet picks her library books at 13 months old.
Create the opportunitiesA trip to your local library isn't just a way to get out of the house without spending any money—it's also the most popular spot for kids to find the books they're reading for fun, according to the study. Beyond checking that the material is age-appropriate, it's best to step back and let them choose which books they want to check out. A whopping 91 percent of the kids aged six and up cited their favourite books as the ones they pick out themselves, with 70 percent of them choosing stories that tickle their funny bones.
So maybe I'll only be able to suggest that we visit Avonlea and Narnia and Hogwarts together during storytime. In the end, I'll let Violet and June choose the literary adventures that they want to embark upon and I'll just be along for the ride. Who knows? Maybe they'll introduce me to some fantastic new books.
Violet at age three, distracted by the book aisle.