Photo: Juan Rico/FameFlynet
At the end of her poignant acceptance speech for the Best Actress Award for her role in Still Alice, Julianne acknowledged her family. "For my husband, Bart, and our children, Cal and Liv," she said, "thank you for my life, thank you for giving me a home." Awww! Julianne also won the red carpet in this sparkly white Chanel dress paired with the perfect sleek updo.
Photo: Juan Rico/FameFlynet
It seems beyond trivial to remark on Best Supporting Actress winner Patricia Arquette's dress, since her acceptance speech comprised one of the most powerful, memorable moments of the night. "To every woman who gave birth to every taxpayer and citizen of this nation, we have fought for everybody else's equal rights," she said. "It's our time to have wage equality once and for all and equal rights for women in the United States of America."
Meryl Streep's (and Jennifer Lopez's!) reaction to Patricia's speech says it all... Amen, sistah! Oh, by the way, Patricia's elegant monochromatic dress was designed by a childhood friend—perhaps worth mentioning, after all.
Photo: Jennifer Lopez via Instagram
"MERYL STREEP #oscars #oscarlegend #needsomeofthatoscarjuju lol," Jennifer Lopez captions this epic Instagram selfie. Indeed, the singer/actress/American Idol judge had the best seat in the house—next to Meryl. 
Photo: Juan Rico/FameFlynet
That dress, though.... On the red carpet, Jennifer dazzled in this nude, larger-than-life Elie Saab dress. Our readers' reviews were mixed, of course, because of that signature plunge neckline. But the mom of two is 45-years-old, so, "If you've got it, flaunt it," I say.
Photo: Juan Rico/FameFlynet
It was a pretty maternity gown for Keira Knightley! The mom-to-be looked lovely in this beige floral Valentino gown and matching flower crown. The dress is fitting for Keira, who seems to enjoy baffling us with her fashion choices—with its pastel flower details and, yes, somewhat baffling French script.
Photo: Juan Rico/FameFlynet
Marion Cotillard's white Dior Couture dress was a resounding favourite on last night's red carpet. No surprise there: The Oscar winning mom of one always nails it at award shows, and this was no exception.
Photo: Juan Rico/FameFlynet
As you can see, white dresses abounded in the Best Actress category. Marion, Reese, Patricia and Felicity Jones all went white! But, Reese Witherspoon doesn't want you to talk about that amazing (verging-on-ice-blue) Tom Ford dress too much: The #AskHerMore campaign—which Reese championed last night—encouraging reporters to ask actresses more creative questions, has been trending on Twitter. "We're more than just our dresses," Reese said on the red carpet.
Photo: Juan Rico/FameFlynet
Rosamund Pike added a pop of major colour to the Best Actress category in this form-fitting red strapless Givenchy gown. Her baby boy is barely three months old, FYI.
Photo: Juan Rico/FameFlynet
The biggest criticism of Zoe Saldana's blush-coloured Versace dress is that it wasn't strapless. But hello?! She's breastfeeding newborn twins! The dress is amazing.
Photo: Juan Rico/FameFlynet
Just five months after baby, Scarlett Johansson shows up in this skin-tight green Versace. Wow. This is a good time to remind ourselves that Scarlett's (and Rosamund's) job is to look amazing, and she has at her fingertips the world's best trainers and child care and chefs to help make that happen. I feel better now. You?
"And I am grateful every day for the most remarkable person I know: my wife, the wonderful Michelle Schumacher," J.K. Simmons said in his acceptance speech for Best Supporting Actor. "I'm grateful for your love, your kindness, your wisdom, your sacrifice and your patience. Which brings me to the above-average children—even though I may try their patience more. Joe and Olivia, you are extraordinary human beings. Smart, funny, kind, loving people and that's because you are a reflection of your mother." Awww!
That wasn't the most memorable part of J.K.'s speech, though. This was: "And if I may, call your mom, everybody. I've told this [to], like, a billion people, or so. Call your mom, call your dad. If you're lucky enough to have a parent or two alive on this planet, call 'em. Don't text. Don't email. Call them on the phone. Tell 'em you love 'em, and thank them, and listen to them for as long as they want to talk to you. Thank you. Thank you, Mom and Dad."
So yeah, call your parents.
Photo: Juan Rico/FameFlynet
Here's mom-of-two Naomi Watts in one of my personal favourite dresses of the night, by Armani. Her hair was total beach-blonde perfection, too. Love!
Photo: Juan Rico/FameFlynet
Mom-of-one Kerry Washington looked elegant in this white Miu Miu dress. The Scandal actress seems to favour this designer, and you can see why.
Photo: Juan Rico/FameFlynet
Mom-of-three (all boys) Cate Blanchett looked exquisite as ever in this black Margiela dress and turquoise Tiffany statement necklace.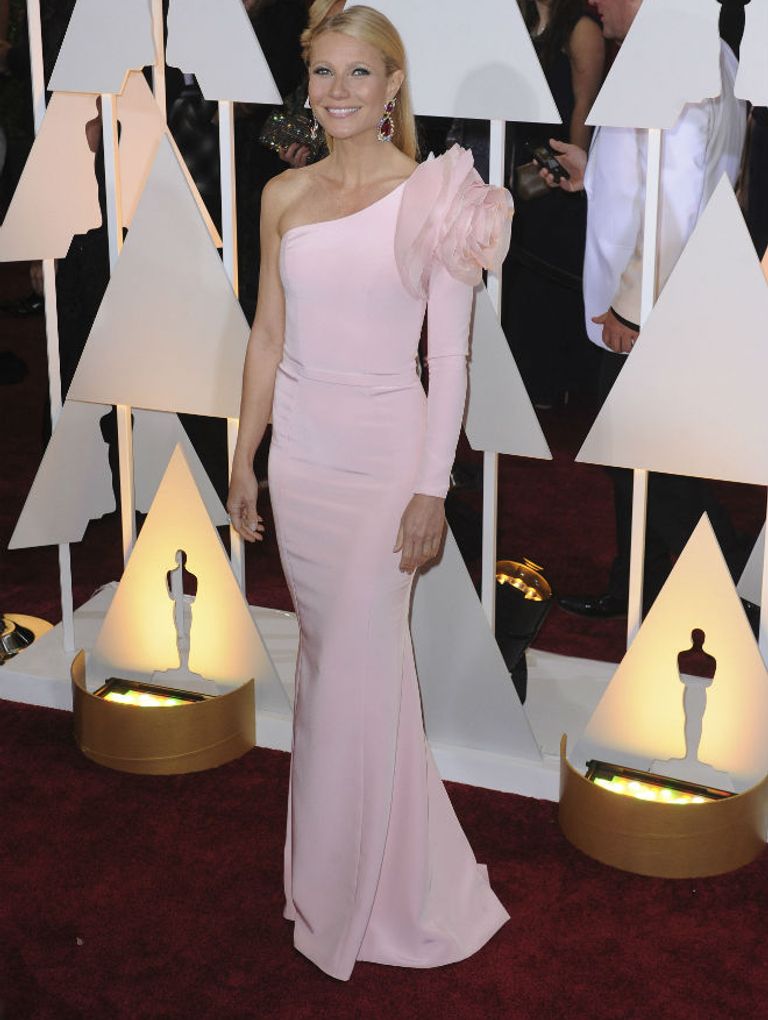 Photo: Juan Rico/FameFlynet
Hold your tomatoes! Gwyneth Paltrow's pink Ralph & Russo was my favourite dress of the night. Loved the colour, the fit, the ponytail and even the poofy flower detail. Perfection! *Ducks and runs.*
Photo: Juan Rico/FameFlynet
Mom-of-two Laura Dern looked fierce in this dress of armour by Alberta Ferreti, and that statement Bulgari necklace. Laura took her dad to the Oscars this year. As she told Ryan Seacrest, she and her parents have seven Oscar nominations among them. Crazy-talented family!
Photo: Juan Rico/FameFlynet
Here's Nicole Kidman in a fine sequined Louis Vuitton dress with a teeny-waist-accentuating red sash.
This roundup wouldn't be complete without at least a mention (probably a photo) of dad-of-two Neil Patrick Harris doing that Birdman parody in his tighty-whities. What do you think—best-dressed?
Love! xo Haley-O Celebrity Candy: Follow along as Haley Overland delivers the latest scoop on celebrity families—plus sweet celeb interviews! You can't have too much of this candy, so check back often.