We all thought J.K. Rowling was done writing about Harry Potter. But, thankfully for us, she's letting us take another visit to the Wizarding World.
It's been revealed that she's written and will soon release three collections of short stories (about 10,000 words each). While not specifically about Harry, the new e-books will delve into the "dark side" of the wizarding world and reveal unexpected details about some well-known characters.
Power, Politics And Pesky Poltergeists sheds light on the history of Azkaban prison, includes a backstory story on Professor Dolores Umbridge and also has some young Voldemort action, detailing the relationship between the Dark Lord and Professor Horace Slughorn.
Hogwarts: An Incomplete and Unreliable Guide dishes all the juicy secrets of Hogwarts.
Heroism, Hardship and Dangerous Hobbies is a detailed account of Hogwarts professors Minerva McGonagall and Remus Lupin.
With a release date of September 6, 2016, the three books will be available as e-books through the official Harry Potter website, Pottermore, as well as other online book stores, and will cost about $3 US a pop.
We don't know about you, but we'll be devouring these new books. #cantwait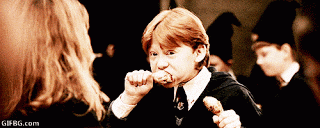 Read more:
This family created the ultimate Harry Potter newborn photo shoot
Hedwig heads to the west coast: Hogwarts opens at Universal Studios Hollywood
100 best Canadian Kids' books of all time