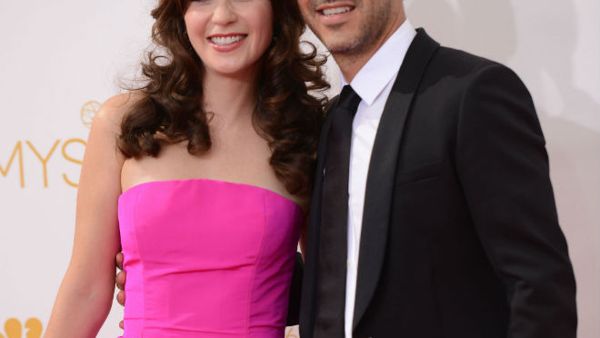 Zooey & Jacob at Emmy Awards, August 25, 2014. Photo: KM/FameFlynet
Update: Zooey and Jacob have announced their baby girl's name... Elsie Otter. (Hmm, Otter.) That they named their daughter Elsie is yet more proof that "E" names for girls are hot right now! Check it out: Elsie, Edie, Evelyn: The new baby-name trend>
[Original] It's been a busy couple of weeks for Zooey Deschanel! The New Girl star welcomed her first child—a sweet baby girl—in July (waiting until August 3 to announce her happy news). But that's not all. Zooey and her producer fiancée, Jacob Pechenik, also got married in a secret ceremony. Surprise!
The newlyweds haven't announced a name for their baby girl. All we know is she was born in Austin, Texas, where her daddy is based, and that she's "a beautiful healthy baby girl." What more could you ask for?
Zooey, 35, sure does love a surprise. You'll remember she had us all squealing with glee when she announced she was engaged and pregnant back in January.
"Jacob and I are over the moon," Zooey told People after the announcement. "We are so excited to meet our little one."
I'm sure the couple is at home basking in the new parenthood glow...and Zooey is probably enjoying some sushi and brie. Zooey was not a fan of the pregnancy diet.
"You can't have sushi," she told Jimmy Kimmel. "You can't have cheese that tastes good. You can have a little bit [of]. But I'd have, like, four cups a day, and now I can have a half cup—which is a joke! It's a total joke!"
Hopefully you're enjoying a nice big cup of coffee right now, Zooey! Newborns are exhausting—something I'm sure your sister can understand. Emily Deschanel welcomed her second son in early June. So much cuteness for the Deschanel family!