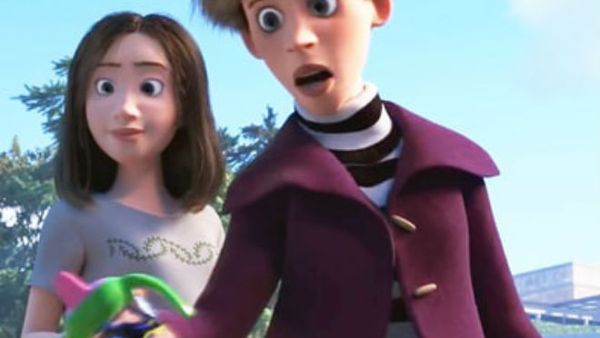 Photo: Disney-Pixar via YouTube
Update: Ellen DeGeneres aka Dory says the the couple in the trailer are not lesbians. While fans assumed the pair were the parents of the child in the pram, Ellen says she just didn't make that connection.
"One of the woman has really short hair and I have to say, it's not a great haircut because it was really chopped up in the back," she says. "I think people assume anyone with a bad short haircut is gay." Oh, Ellen.
However Disney doesn't seem to want to confirm or deny the sexuality of these side-characters. We are still hopeful that there will soon be a gay couple in a Disney film.
T-minus 18 days until Finding Dory hits theatres! In anticipation of the film, Disney-Pixar released a new trailer that gives us a bit more detail about the plot and more importantly, hints that Finding Dory may feature Disney-Pixar's first-ever lesbian couple.
The couple makes a cameo when a toddler at a park drops her sippy cup and one of the two women picks it up and says "Poor baby, let me get that for you." Now there's no official word that these two women are a couple, but we can hope.
The trailer originally debuted on The Ellen DeGeneres show—quite fitting since Ellen DeGeneres voices Dory. Ellen came out as a lesbian in 1997 and is a strong advocate for the LGBTQ community.
Although the couple only appears in the trailer for a couple of seconds, fans are already celebrating this huge step forward. And rightly so! We are in 2016 after all.
This news comes a few weeks after the #GiveElsaAGirlfriend campaign, where fans of Disney's Frozen urged the writers to make Elsa Disney's first lesbian princess.
We can't wait to see what happens next!