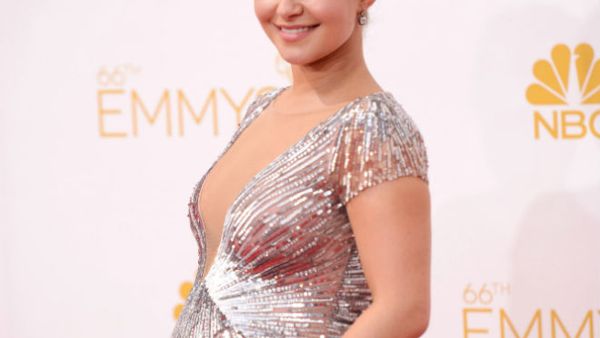 Hayden at the Emmys, August 25, 2014. Photo: KM/FameFlynet
Hayden Panettiere is due any day now, and Baby couldn't come sooner for the 25-year-old actress.
"I'm so ready to hold my baby girl—I'm going to be a very hands-on mom," she tells Hello! in an exclusive interview. "I'm thrilled that I am having a girl first because I feel like I know a lot about raising a strong woman. I feel very empowered myself and I think my daughter will, too."
This will be the first child for Hayden and her boxer fiancé, Wladimir Klitschko, 38, and she's amazed by the pregnancy weight gain.
"I'm 5 feet, 2 inches, and I started out at 106 pounds, and guess how much I weigh now? Around 145 pounds," she tells the mag.
"And the worst part is that my feet are still size five and they're going, 'What's going on with all this weight?' They're about to snap from underneath me with the strain," she says.
Hayden's got an interesting theory about her weight gain, though (haven't really heard of this one, and I like it!).
"I'm still quite muscular," she notes, "so if you're running around carrying 40 pounds of extra weight, you're going to build extra muscle." True. that.
Indeed, the recent racy photo she posted on Twitter suggests she looks fine and healthy with the added weight...
"I'll tell you one thing for sure," she adds. "I am not walking down the aisle 40 pounds heavier than usual in a wedding dress with a huge pregnancy belly stitched in. Not happening." 
Did you gain a lot of weight when you were pregnant? (Yes.)
Love! xo Haley-O Celebrity Candy: Follow along as Haley Overland delivers the latest scoop on celebrity families — plus sweet celeb interviews! You can't have too much of this candy, so check back often.