Looks like this baby got early acceptance to Hogwarts. And while this room is certainly better than the cupboard that Harry spent his formative years in, we aren't sure how to feel about it.
The babe's parents designed this elaborate Harry Potter-themed nursery and certainly didn't skimp when it came to details. There's a hanging broom (a replica of HP's Firebolt), wands, potions and a giant Marauders Map. This is the parents' fourth, and probably last baby, so they wanted to go all out.They even named the little one after Snape—baby Carlise Severus.
With the dark walls, this nursery is kind of like a chamber of secrets. But we want to know what you think—is this nursery cute or creepy?
Each framed print is a book character. And hey, Hedwig, hey!
That map!
We spy Harry's famous glasses on the shelf.
But however you feel about the nursery decor, I think we can all agree that Dumbledore would approve.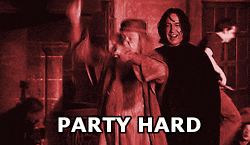 Read more:
This baby's amazing hair has sparked a meme war
The trailer for The Lego Batman Movie is here
Dad creates an episode of MTV's Cribs that's actually about cribs!