Have you seen the zookeeper memes spoofing dad-of-one Chris Pratt's raptor wrangling in his latest flick, Jurassic World? They've hashtagged it "PrattKeeping," and it's pretty hilarious. Here are a couple of my faves...
Photo: Detroit Zoo via Facebook
Photo: Woodland Park Zoo via Facebook
Hilarious! (Search the #prattkeeping hashtag on Twitter and Facebook for more.)
So now, Chris has joined in on the fun with a heartwarming gesture. He did some #PrattKeeping of a group of kids at Our Lady of the Lake Children's Hospital, in Baton Rouge, Louisiana, over the weekend.
"Our patients were all smiles," the hospital shared on their Facebook page along with the photo below, "and we are so thankful to Chris for lifting their spirits by visiting and handing out Jurassic World goodies."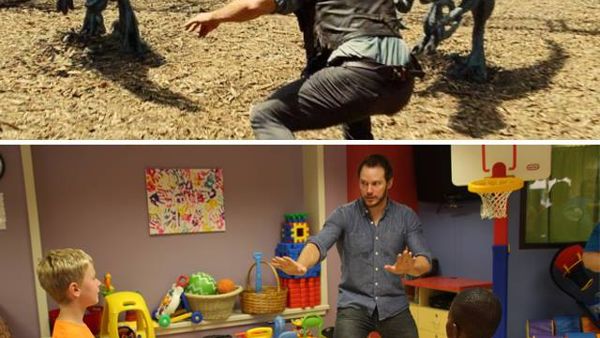 Photo: Our Lady of the Lake Children's Hospital via Facebook
"ICYMI," the hospital adds in a subsequent Facebook post, "Chris Pratt recently used his 'raptor whispering' skills to cheer up patients at Our Lady of the Lake Children's Hospital." They then point to their website, where you can see more sweet pics from the event. Check them out, here.
Photo: Our Lady of the Lake Hospital via Facebook
Pratt and wife Anna Faris are parents to two-year-old Jack—who, you might recall, gave the couple quite a scare when he was born nine weeks premature.
Here's an adorable family pic Chris posted recently on Instagram.
Aww, precious! And of course, best caption. How can one not ♥ Chris Pratt?!
Love! xo Haley-O Celebrity Candy: Follow along as Haley Overland delivers the latest scoop on celebrity families—plus sweet celeb interviews! You can't have too much of this candy, so check back often.