Chelsea Clinton, 8th Annual Clinton Global Citizen Awards And CGCA Blue Carpet, New York City, September 21, 2014. Photo: Diane Cohen/FameFlynet
UPDATE! Told you I'd be keeping an eye on the former First Family's Twitter feeds—and it was worth it! Check these babies out:
It's a girl for Chelsea Clinton!
Yes, the former First Daughter (and global activist in her own right), 34, and hubby Marc Mezvinsky, 36, welcomed their first child—a girl!—on Friday, September 26. Chelsea took to Twitter and Facebook to announce the big news and the baby's name, "Charlotte" (pretty!).
The couple announced they were expecting their first child back in April. "I certainly feel all the better whether it's a girl or a boy that she or he will grow up in world filled with so many strong female leaders," Chelsea said in a speech at a Clinton Foundation event empowering female youths. Mom, Hillary Clinton, was by her side.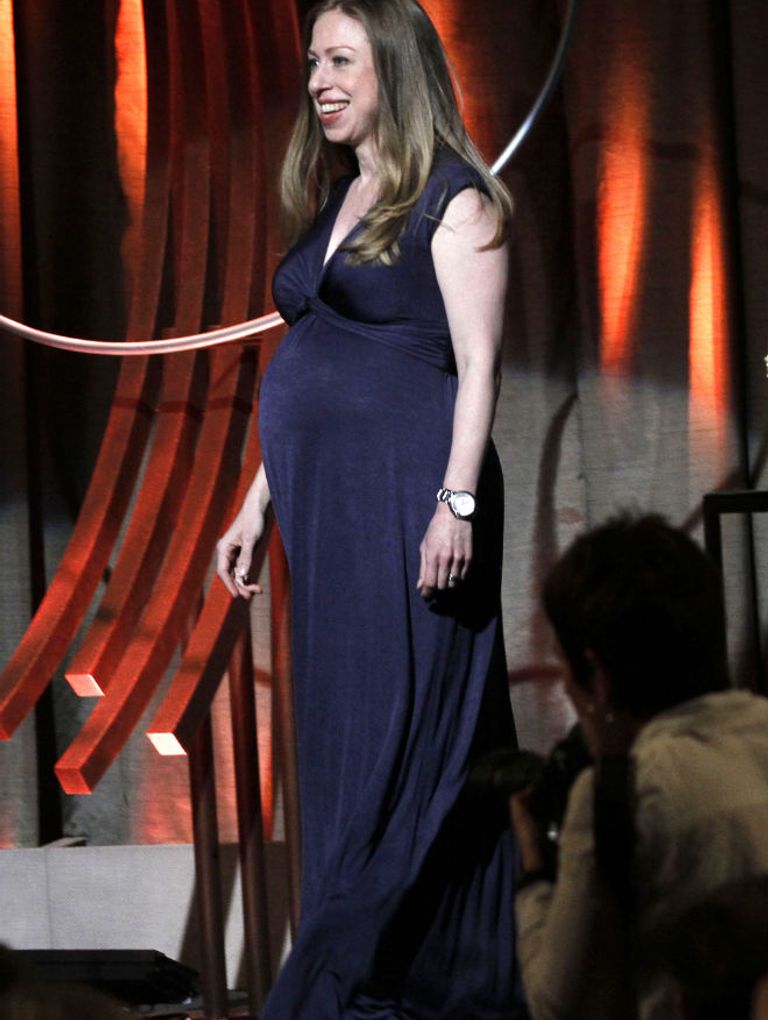 Photo: Diane Cohen/FameFlynet
Thrilled to share their daughter's pregnancy news, grandparents-to-be Bill and Hillary Clinton took immediately to Twitter.
"Excited to add a new line to my Twitter bio…grandfather-to-be!," Bill tweeted. "@HillaryClinton and I are so happy for Chelsea and Marc."
Hillary piped in, too, with, "My most exciting title yet: Grandmother-To-Be! @billclinton and I are thrilled that Chelsea and Marc are expecting their first child!"
We're now on serious Twitter Watch to see what the new grandparents will tweet about Baby Charlotte! For now, they have both simply retweeted Chelsea's announcement.
Chelsea and Marc. Photo: AAR/FameFlynet
That the baby was a girl was a surprise for new parents Chelsea and Marc. Chelsea recently commented that they had decided not to find out the sex of their baby. "There are so few mysteries in life. . .in which any answer is a happy one," she told CNN's Fareed Zakaria.
In addition to being the former First Daughter, Chelsea is the the vice chairperson of the Bill, Hillary & Chelsea Clinton Foundation. She and Marc were married in 2010 and currently live in New York.
Love! xo Haley-O Celebrity Candy: Follow along as Haley Overland delivers the latest scoop on celebrity families—plus sweet celeb interviews! You can't have too much of this candy, so check back often.