Happy Anniversary to the beloved Tale as Old as Time.
To commemorate this most blessed occasion, we rounded up 25 of our favourite things about the 1991 Disney classic.
1. It instilled hope in the hearts of bookworms and odd girls everywhere #babysittersclub4ever
2. How it made us feel every time we watching it.
3. Even though our parents would look at us like this whenever we watched it twice in a row. #dontjudgeme
4. This sassy musical number, perhaps the sassiest in the entire movie. Cogsworth, you're such a silly guy. #watchhimnaenae
5. How it taught us to eye roll in the best, most dramatic way possible. #sorrymom
7. That it gave us grand illusions that singing while running errands and having the entire town join in with you was totes normal. Why can't it be so? #LittleTown
8. When Beast gets real with his feelings. 
9. And subsequently lightens up and stops being such a cranky pants. That was actually the best thing ever and we all fawned over him for it.
10. When Belle also got real with her true feelings via a singing internal monologue. 
11. When Belle and Beast became BFFs. I think Belle loves books just *slightly* more than she loves Beast at this point. 
12. This moment was everything. EVERYTHING. *Cue Angela Lansbury singing Tale as Old as Time*
14. When Beast lets Belle go because he loves her, even though it means that he may be a beast forever. #Selfless
15. This scene. "Voila! You look so...so..." "Stupid." 
16. Chip! He's so cute and brave. 
17. Lumière and Cogworth's friendship. #squadgoals
18. Mrs. Pots. She is such a loving and nurturing mom to her thousands of dish babies. #blessed Though, she does seem to play favourites with Chip, but we're not judging. You do you, Potts.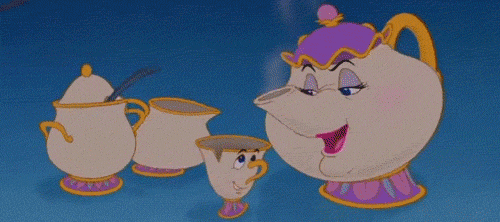 19. This heart-bursting scene. Of course she came back, silly. Belle is your girlfriend.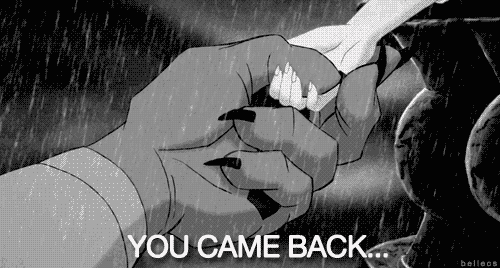 20. Maurice's try-again attitude. He never gives up and we respect that. #props
21. When Belle tells off Gaston and refuses his marriage proposal. Ugh, Gaston, take a hint already. 
22. When Gaston later fell off the tower. He was so very very rude. 
23. When Beast turns back into Prince Adam. Hubba hubba.
25. The happy ending. IRL, we think Mrs. Potts and Belle's dad totally get married and Belle becomes Chip's step sister and also master. #Love