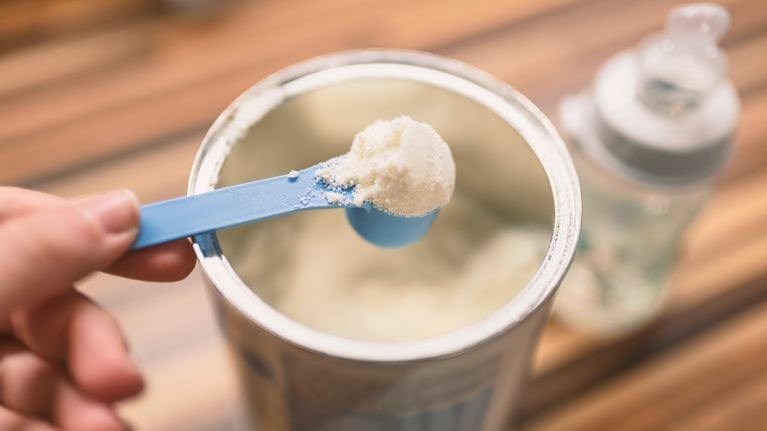 dragana991 / Getty Images
Breastfeeding can be a challenging part of having a newborn. Even if you pump and give your child a bottle for breastfed babies, there are many reasons why you might need to supplement with formula. Whether you underproduce, are back to work  or simply prefer a more convenient choice, choosing the best formula for breastfed babies is important.
And if you're new to parenting, you'll want to add at least a can or two to your newborn checklist.
What to look for in the best formula for breastfed babies
While every baby is a little bit different, Dr. Whitney Casares, MD, MPH, FAAP, suggests choosing a formula that's FDA-approved. "This ensures they go through rigorous testing protocols before they ever hit consumer shelves. It also means they are held to the highest standards possible for contamination and expiration concerns."
Dr. Casares recommends looking for a formula that has prebiotics. "Maintaining a healthy microbiome is of ultimate importance," explains the pediatrician. She advises choosing a formula that has Docosahexaenoic acid (DHA) and arachidonic acid (ARA), which are the fatty acids found in breast milk.
"These positively influence neurodevelopment and immune function."
To provide energy and good bacteria in the gut, Dr. Casares notes that Human Milk Oligosaccharides (HMOs) are also critical formula ingredients. What to stay away from? High fructose corn syrup. According to Dr. Casares, older formulas used this ingredient more frequently, but it can still exist in some modern formulations.
Best formula for breastfed babies 2023
Bobbie Organic Infant Formula
Bobbie
Although this mother gives Bobbie her combo-fed baby, there are so many reasons to go with the eco-conscious baby brand. The best of all worlds, this organic formula is made to both American and European standards. Made without corn syrup, Bobbie contains both DHA and ARA, which help with baby's growth.
With milk sourced from grass-fed Organic Valley cows and iron among other ingredients, you can feel good knowing you are giving your baby a high-quality product.
Bobbie's subscription model is also incredibly helpful for busy parents. Since it's customizable, whether your milk supply increases or decreases, they have you covered. They even offer a formula calculator so you can figure out how much your breastfed baby will need.
Available at Target in-store
The first FDA-regulated baby formula to receive the prestigious Clean Label Project Purity Award as well as Pesticide-Free Certification
Excellent subscription model
More expensive than drugstore brands
Happy Baby Organics Infant Formula
Merchant
If an organic baby formula is a priority, you'll love this one from Happy Baby Organics. Modeled after breastmilk, this formula is made for babies 0 to 12 months—so once you know if baby likes it, you can easily stick with it.
Per Dr.Casares' suggestions, it contains DHA and ARA as well as prebiotics. Better yet, the packaging doesn't have BPA, BPS or phthalates, making it an extra safe choice. In addition to lactose, the principal carbohydrate found in breast milk, it also contains soy—babies that might be sensitive to soy should use a different formula.
Organic ingredients
Great price
No corn syrup
Eco-conscious packaging
Makes it easy to switch between breast milk and formula without upsetting bellies
Some reviewers noted it was harsh on their babies' stomachs
Mama Bear Infant Milk-Based Baby Formula Powder
Merchant
There are so many expenses when having a baby. If you can find a high-quality product for good value, go for it! Mama Bear's formula powder is offered at an affordable price—you can save even more money with a subscription! This formula is strictly regulated by the FDA, meeting or exceeding all standards.
With DHA, omega-3 fatty acids, plus more than two dozen vitamins, iron and prebiotics—your child will get more than adequate nutrition. 

Subscription option helps save money and time
Transparency with ingredient sourcing
Excellent price
Kosher-certified
Dissolves easily for seamless bottle feeding
Can only be purchased from Amazon
Bubs Goat Milk Infant Formula Stage 1
Merchant
Learning your baby has a milk allergy can be frustrating. Choosing a goat milk formula such as Bubs' Goat Milk Infant Formula can be a smart alternative to traditional cow's milk options. Bubs has an excellent recipe that's nutritionally complete, non-GMO and naturally gentle.
Each drop contains prebiotics, DHA, ARA and oligosaccharides, the latter three being ingredients Dr. Casares recommends for baby formula. Made in Australia, this formula meets FDA standards and is made in an FDA-registered factory—so there's no need to worry about quality issues.
No artificial flavors, colors or preservatives
No corn syrup
Meets FDA and European regulations
Goat milk-based formula may be easier to digest for sensitive tummies
Makes formula feeding easy for lactose-intolerant babies
Dissolves easily in lukewarm water, makes preparing formula on the go a simple task
This formula is only for babies up to six months old
Enfamil NeuroPro Baby Formula
Merchant
It's hard to decipher what's good and what's not these days—but you can trust over 8,000 parents, who rated Enfamil NeuroPro Baby Formula an average of 4.8 stars. With key ingredients to build the brain and support immunity—it's not a surprise this brand is the top one recommended by pediatricians.
In addition to a reusable tub, this formula is also available in single-serving packets, a refill box and ready-to-feed bottles. It's an ideal choice for parents trying to reduce household waste as well as those who live an on-the-go lifestyle.
Contains DHA and ARA
The only brand to have a triple prebiotic immune blend
Well-known brand in the baby world
Available in different formats
The most readily available formula for breastfeeding at drugstores and supermarkets
Supports healthy brain and eye development
Parent's Choice Advantage Premium Powder Baby Formula with Iron
Merchant
Parent's Choice is Walmart's private label brand. But don't be fooled, just because it's a good value doesn't mean it's not a great choice. With 4.5 stars and more than 500 ratings, it is clearly favored by many parents. This formula includes DHA, ARA, lutein, and Vitamin E, making it nutritionally complete.
Better yet, with ingredients comparable to Similac Pro-Advance, this formula supports your baby's development while saving you money. It's a great choice for supplementation in between pumping breast milk.
Great price
Ideal ingredients
Subscription option available
Makes feeding your baby and introducing formula a budget-friendly task thanks to Walmart pricing
Enfamil Reguline Baby Formula
Merchant
Having an infant with constipation can be tough—a baby formula like Enfamil Reguline is essential to helping the situation. With a dual prebiotic blend, this formula softens baby's stool within the first week of use.
Once you start using this formula, it's just a short time until there's some relief. With more than 1,300 ratings and an average of 4.9 stars, parents truly touted the benefits of this formula! 

Has DHA
Results within the first week
Subscribe and save option available from Amazon
A favorite of reviewers and moms beginning to return to work
Expensive compared to other infant formulas
Contains corn syrup solids
This article contains affiliate links, so we may earn a small commission when you make a purchase through links on our site at no additional cost to you.
Weekly Newsletter
Keep up with your baby's development, get the latest parenting content and receive special offers from our partners