Photo: iStockphoto
If you're expecting a baby this fall or winter, you might be wondering which gear to stock up on. Do you need a teeny-tiny puffy snowsuit for your infant? A giant down-filled stroller bag? Many parents find that strollers are no fun on snowy sidewalks and opt for babywearing their infants instead. (The cozy newborn snuggles are another major benefit of having a winter baby.) Here are ten awesome products to make your winter outings a little bit warmer, and a whole lot easier.
Photo: Courtesy of The M Coat
This made-in-Canada jacket is a maternity coat and babywearing solution in one. Turn the insert upside down and it will fit over your growing bump. Flip it around, so the wider end is at the top, and it's an insert that accommodates an infant in a carrier. (Always make sure your baby is "visible and kissable"—which means wearing them fairly high on your chest, even inside a winter coat.) You can also wear the coat without the insert, as a regular winter jacket. They are pricey, but the resale value in neighbourhood buy-and-sell groups might make it worth it. The M Coat, $495, themcoat.com.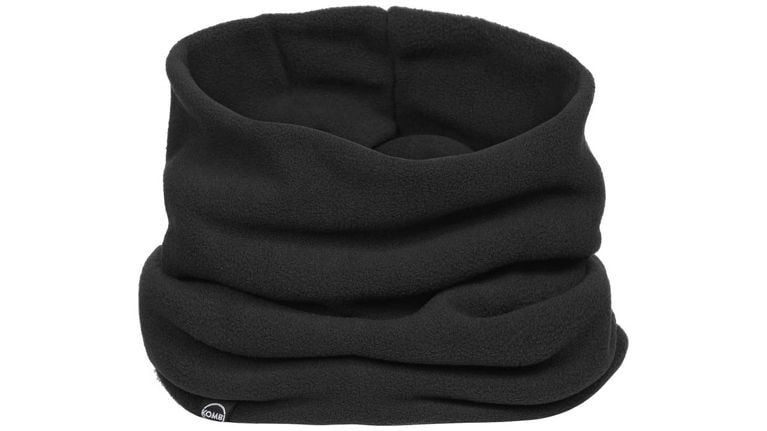 Photo: Courtesy of MEC
2. Kombi Comfiest Neck Warmer
If you've got a babywearing coat on, and enough room to look down at your safe and snug snoozing infant, your neck will probably be exposed to the elements. On a chilly or windy day, bundle up with a neck warmer or turtleneck. (Scarves are too bulky and might obscure air flow and access to your baby.) It might not be the most stylish look you've ever sported, but we recommend a close-fitting fleece neck warmer instead. Kombi Unisex Neck Warmer, $12, mec.ca.
Photo: Bridge the Bump Inc.
3. Bridge the Bump Maternity & Babywearing Coat Insert
If you prefer to attach a babywearing insert to the winter coat you already own, check out companies like Bridge the Bump, founded by two moms (who are also sisters-in-law) in Toronto. The first step is figuring out what kind of zipper is on your existing coat, and whether you'll need an additional zipper adapter ($24.99) to make the two zippers compatible. Bridge the Bump Maternity & Babywearing Coat Insert (Standard Length), $95, lovemedobaby.com.

Photo: Courtesy of Columbia Sportswear
4. Columbia Infant Foxy Baby Sherpa Bunting
If you're wearing your baby inside your own winter coat, a snowsuit is probably too warm. Plus, snowsuit and jacket fabrics can be kind of slippery for carriers. You might opt for layering with a fleece one-piece instead.  Fold-over cuffs that turn into little mittens and sock feet (not shown here) and an attached hood are key—they minimize the total number of tiny items you will inevitably forget (and eventually lose) when rushing out of the house. The fleece one-pieces from Columbia are great because of the sizing: if you've got a newborn, grab the 0-3 size. They also sell a size 3-6 months and a size 6-12 months. Columbia Infant Foxy Baby Sherpa Bunting, $50, columbiasportswear.ca.
Photo: Courtesy of Kokoala
5. Kokoala Coat Extension
Another Canadian coat-extension company, Kokoala, offers a few different fabric options for their coat extenders. You can get panels in a lightweight soft-shell fabric, in a fall or spring fleece, or in a waterproof nylon with a heavy polar fleece lining. Kokoala's online tool for helping you choose the right zipper adapter (after you put your coat extender in your online cart) is easy-to-use, even if you're operating on very little sleep. Kokoala Coat Extension, The Original, $90, kokoala.ca.
Photo: Courtesy of mimiTENS
A baby's shoes and boots (if they're old enough to wear them) can easily fall off when babywearing, and you probably won't notice while you're out and about. These booties, designed by a Toronto mom and made from upcycled materials, have attached socks to help them stay on, and suede soles. mimiTENS booties, $25, mimitens.com.
Photo: Courtesy of MEC
7. MEC Ursus Bunting Suit
The double zippers on this cute fleece one-piece make it super easy to load a sleeping (or fussy) baby in and out. Though they're not visible in this image, the Ursus also has handy fold-over cuffs and booties. A word of warning: most MEC winter wear does tend to run large in the kids' sizes, so size down. MEC Ursus Bunting Suit, $50, mec.ca.
Photo: Courtesy of MakeMyBellyFit
8. Make My Belly Fit Universal Jacket Extender
This Canadian company is run by a couple in Montreal with four young kids. (You might have seen them on Dragon's Den.) They offer the same type of jacket insert (suitable for both pregnancy and babywearing), but new to the market, as of last winter, is their "universal jacket extender"—meaning you don't need to bother with zipper adapters. (And it could work with multiple coats in your closet.) Make My Belly Fit Universal Jacket Extender, $130, makemybellyfit.com.
Photo: Heschel Supply Company
9. Herschel Supply Co. Nova Backpack in Sprout
Many shoulder-strap diaper bags will slip off your shoulders if you're babywearing; opt for a lightweight backpack-style diaper bag instead. Herschel's comes with its own matching change pad, and in a rainbow of colours and prints. Herschel Supply Co. Nova Backpack in Sprout, $140, herschel.ca.
Photo: Courtesy of Merrell
10. Merrell Approach Sage Pull-on Polar Waterproof Boots
Our last tip: put on your boots or shoes first, before loading the baby in! (It can be hard to bend down once you've got baby on board.) It's much easier to babywear with slip-on shoes, or sturdy boots that are easy (ish) to put on with one hand. Skip the laces this winter and go with something comfy and durable like Merrell's pull-on boots. Approach Sage Pull-on Waterproof Boots in "falcon," $50, merrell.com.
This article was originally published on Oct 21, 2020
Weekly Newsletter
Keep up with your baby's development, get the latest parenting content and receive special offers from our partners