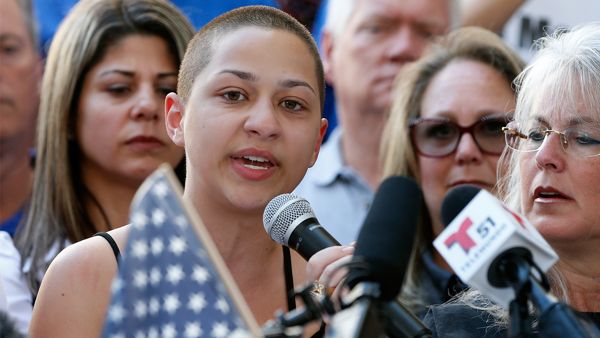 Photo: Rhona Wise/Getty Images
When someone calls you childish, the connotations are numerous, but never flattering: Kids are lazy, right? Don't forget entitled and Instagram-obsessed and untrammelled by the real-world cares of their hardscrabble elders.
And yet: In the days following the recent horrific mass shooting in Parkland, Fla., — in which 17 students and teachers at Marjory Stoneman Douglas High School were gunned down by an AR-15 rifle legally purchased by 19-year-old Nikolas Cruz—teens across America, but particularly in Parkland, haven't resigned themselves to the unchecked power of the country's unchecked gun lobby. No, that's adult behaviour. The kids have organized.
Teens in South Florida walked out of their classrooms in protest. Stoneman survivors bussed to their state capitol in Tallahassee to demand change from legislators. They have harnessed the power of network television and social media (using the hashtag #NeverAgain) to raise awareness. There was even a lie-in at the White House. And on March 24, students and myriad other gun-control supporters will take to Washington in the March For Our Lives — an event that has, so far, drawn support and funding from the likes of George Clooney and Oprah.
Impressive, yes, but what indication is there that America's youth will be able to make headway on an issue literally written into America's Constitution? In a year that's already seen 18 school shootings, and even after Sandy Hook, why is Stoneman the one to move the needle? Well, if the following teens are any indication, there is reason to hope.
Emma Gonzalez, 17 The Stoneman senior is just one of many survivors publicly venting their grief and frustration at the gun lobby's stranglehold on American lives, but she is perhaps the most visible — thanks to an emotional speech she delivered last Saturday at a rally in Fort Lauderdale, Fla. In 11 blistering minutes, Gonzalez "called B.S" on the country's broader paralysis around gun control and politicians (*cough* Trump) profiting from NRA donations. She also dubbed Stoneman "the last mass shooting."
And, on Wednesday night, during a CNN town hall on gun control — which included Florida Senator Marco Rubio, who has received NRA funding — Gonzalez took on NRA spokesperson Dana Loesch, demanding the organization's official position on semiautomatic and fully automatic weapons.
"Sarah," age unknown In a now-deleted tweet, a young woman believed to be a Stoneman student didn't mince words with her response to President Trump's "prayers and condolences" tweet. "I don't want your condolences you f—–g price [sic] of s–t, my friends and teachers were shot,"it read. "Multiple of my fellow classmates are dead. Do something instead of sending prayers. Prayers won't fix this. But Gun control will prevent it from happening again." Prior to its removal on Thursday morning, the message had been retweeted more than 65,000 times. David Hogg, 17 Like Gonzalez, Hogg has become one of the Parkland shooting's de facto faces — and a leading March For Our Lives organizer — which, of course, means he has been targeted by the right-wing conspiracy contingent, claiming he is a hired "crisis actor." For his part, Hogg refuted the rumours this week during an interview with MSNBC, saying, "These people are trying to stop us, and they are actually helping us out a lot." He also noted that his Twitter followers have tripled in one week's time.
Cameron Kasky and Chris Grady, 17 Also in attendance at CNN's Wednesday town hall were Stoneman seniors Cameron Kasky and Chris Grady, who took turns expertly grilling Senator Rubio. First, here's Kasky — already the author of a CNN op-ed — asking Rubio, point blank, whether or not he will accept gun lobby donations after Stoneman:
And here is Chris Grady, a new recruit of the American military, asking Rubio about his position on citizens' rights to large-capacity magazines:
Sheryl Acquaroli, 17 On Wednesday, at a thousands-strong rally outside the Florida state capitol in Tallahassee, Acquaroli, another Stoneman senior, implored impotent lawmakers to take action in a passionately delivered "letter" to Congress. "Dear Congress," Ms. Acquaroli cried, "how can you claim to stand for the people but let your kids get slaughtered like animals in their own school? Why is it that every time we make a step forward you force us back?" And then, a minor begging adults to take accountability, she said, "The next person who dies because of an AR-15 will be on you."