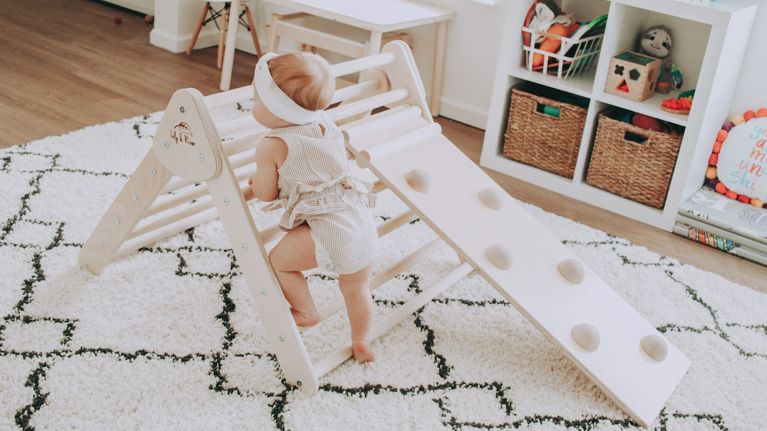 Photo: Courtesy of Lily & River
We have a cool announcement: Today's Parent has partnered with the new online marketplace Peeka & Co. to bring parents our fave picks for toys and other little-kid essentials.
As Canada's top parenting media brand, it's safe to say we know a thing or two about toys (we've tested literally thousands over the years) and we've channelled that into the Today's Parent collection. We curated a mix of play staples, like the Little Climber foldable playground (worth the investment, especially if friends or relatives can pool resources!) and interesting newer releases, like the adorable Nursing Nana Dog—all hand-picked by the editors of Today's Parent.

Photo: courtesy of Peeka & Co.
Mikayo the Bear - Kid's Digital Camera
Photo: courtesy of Peeka & Co.
The Flutterers Finger Puppets (Set of 4)
Photo: courtesy of Peeka & Co.
Peeka & Co.'s focus is on items for kids aged 0-4. All of the products are vetted by the company's eight "value standards," and when shopping, you can even filter items using these values, which include things like BIPOC-owned, ethical production and made in North America. You can of course also search by age, brand and type of toy, among other criteria.
Featuring brands you're probably familiar with—like Manhattan Toy and Magna-Tiles—and others that are lesser known but worth discovering, the products curated by the Peeka & Co. team are all meant to support the developmental play needs of newborns, babies, toddlers and preschoolers. And yes, we said needs. Kids need to play! It's no secret that play is integral to a child's overall development—researchers have been reporting this fact for decades. There's a reason why the UN once declared play a basic human right of every child. Play gives kids the opportunity to practice things like communication and conflict resolution, creativity and imagination, and even increases kids' capacity for future learning.
Plus, let's be real: The right toy can entertain your kid long enough for you to have a little break—and maybe even drink your coffee while it's still hot!
Editor's note: Peeka & Co. is owned by St. Joseph Communications, the parent company of Today's Parent.