Photo: Tourism Nova Scotia
1. 10th Annual Port Hood Lobster Picnic It's all about celebrating the crustacean at this annual picnic, which takes place in and around the grounds of the Al MacInnis Sports Centre in this community on the west coast of Cape Breton Island. The fun starts at 1 p.m. and goes until 10 p.m. Kids will love taking a boat tour to Port Hood Island, trying their hand at horseshoes, bopping on bouncy castles, getting their faces painted, playing games and more! There is music throughout the event and lots of great food, including the picnic's famous lobster burgers.
Photo courtesy of Sherbrooke Village
2. St. Mary's River Days at Sherbrooke Village Celebrate all that the St. Mary's River in eastern Nova Scotia has to offer by taking your kids to Sherbrooke Village's 19th-century heritage site for the St. Mary's River Days festival. Your family will have a blast taking part in treasure hunts and doing crafts. On July 16 and 23, there will be old-fashioned ice cream making (and tasting!). On July 24, kids will be able to make their own little wooden boats and head over to the Sawmill & Goldmine Frolic to try out classic woodsmen's competitions, including the nail drive and kettle boil. They can also try their luck at gold panning for real gold (and they get to keep whatever they find!).
Photo: Parks Canada/C. Green
3. Learn to Camp at Kejimkujik National Park and National Historic Site If camping has always been on your to-do list but you don't know where to begin, signing your family up for this overnight adventure is a great way to take the first step. For $44 per adult and $22 per child (plus daily park entrance fees), you'll learn how to pitch a tent and build a campfire and get the inside scoop on camping safety and cooking. Tents and sleeping pads are provided, and there's a group dinner on July 23 and a group breakfast on July 24. Plus, you'll have a chance to try canoeing and stargazing at the Dark Sky Preserve. Your kids will remember the experience for years!
Photo: Western Nova Scotia Exhibition/Debbie Roberts Photography
4. Western Nova Scotia Exhibition Take your kids to this historic agricultural fair (the exhibition celebrates its 157th anniversary this year) in Yarmouth, NS, complete with a midway full of rides and games, a kiddie farm, horse shows, face painting, a battle of the bands and more! On Saturday and Sunday, the Nova Scotia Drone Racing League will be presenting races and have drones on hand. Sunday is also Family Day and will feature hula hoops, a bean bag toss and a cowboy hat throw.
When: August 3 to 7 More info: wnse.ca
5. Festival acadien de Clare Celebrate Acadian life at the oldest Acadian festival in the world, which takes place in Clare in southwestern Nova Scotia. This nine-day festival is full of fun for the whole family, including Acadian and Cajun music, dance, food, lumberjack competitions and more! On August 11 at 1 p.m., there is a kids' parade where everyone is encouraged to dress up in Acadian colours (blue, yellow, white and red). On August 14, Clare's main street is closed off for the afternoon for the Festival Parade and Bazaar. National Acadian Day (August 15) is celebrated with Tintamarre, a noise parade where people drive through town decorated in Acadian colours and honking vehicle horns, followed by a short noise-filled walk that leads parade goers to a concert.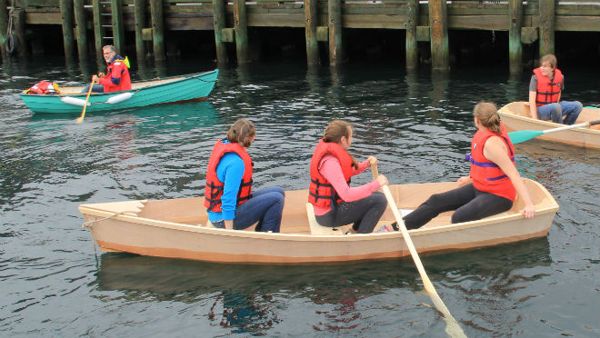 Photo: Maritime Museum of the Atlantic
6. Family Boat Building at the Maritime Museum of the Atlantic For the fourth year in a row, the Maritime Museum of the Atlantic in Halifax is teaching families and community groups how to build a Bevins Skiff. This year's participants have been selected, and they will spend three days mastering the art of boat building alongside museum staff and then launch their craft at the museum's wharf on August 12 at 1 p.m. The public is welcome to stop by the boat shed from August 10 to 12 to watch the boat building, as well as the launch at the wharf. But there is much more to see at the museum, including exhibits that feature Theodore Tugboat, the Titanic and Nova Scotia shipwrecks. On Tuesday nights, admission is free from 5 to 8 p.m. (and there will be musicians playing from 7 to 8 p.m. until August 30 as part of the museum's Tuesday Night Tunes series).
7. Disney's Beauty and the Beast at Neptune Theatre If you have a young musical-theatre fan, you'll want to take him to see Neptune Theatre's version of this classic Disney musical, complete with beloved characters like Belle, Chip and Cogsworth. This Halifax institution is the largest professional regional theatre in Atlantic Canada and also runs a theatre school. Performances are for kids ages four and up (babes in arms are not permitted). Tickets go on sale on July 4.
Photo: Nova Scotia Tourism
8. Not Since Moses 5K/10K and Basket Run Lace up your family's running shoes and jump at the chance to run on the bottom of the Bay of Fundy while the tide is out in Five Islands, NS, two hours north of Halifax. Adults and teens can run the 10K or run or walk the 5K—both begin at 8:15 a.m. At 10 a.m., there is a Basket Run for little ones in the gooey mud (the 100-metre run is for kids ages three and under, while the 500-metre run is for kids ages 12 and under). The fee for the Basket Run is $12 and includes a T-shirt and medal, while registration for the 5K and 10K costs $60. Food, live music and interpretive talks round out this fun day.
Photo: Ovens Natural Park
9. Ovens Natural Park Your family can camp overnight or just visit for the day at this private 190-acre nature park in Riverport, NS. Regardless of how long you stay, there is tons of fun for everyone at this beautiful spot located smack dab between Lunenberg and Rose Bay. Hike along the scenic coastal trail, check out the park's naturally formed sea caves (which are known as "ovens"), go sea kayaking, learn about the land's history (as the site of the province's gold rush in 1861) and try gold panning. There's also a playground for kids to explore, a pool and farm animals to visit. But the Ovens is also the site of tons of music making. The land is owned by the family of musician Harry Chapin (of "Cat's in the Cradle" fame), and there is live music at night in the park's restaurant, the Ol' Miner Diner, throughout July and August. And then there's the annual Chapin Family Concert by the Sea, which includes a folk and children's music concert by the sea from 1 to 4:30 p.m on August 21 featuring performances by a number of Chapin family members.