Photo: Courtesy of Nashville Convention & Visitors Corporation.
1. Shoot for the stars at the Adventure Science Center
Treat them to some interactive fun that's out of this world at the Adventure Science Center, with educational experiences about space, the human body, lights and sound. Little explorers will love the 75-ft. Adventure Tower, a tower in the middle of the building that features slides, tunnels, an oversized replica of a human beating heart and a giant walk-on piano.  At the top of the tower, visitors can climb through the roof to the observation deck to see a spectacular view of the city. Got a budding scientist? The new Destination Exploration, conveniently located near the base of the Adventure Tower, is targeted at the five-years-old and under set with a Noodle Forest (tons of suspended pool noodles that kids can walk through and explore), reading zone and train table. In the Space Chase, the Eva Experience lets kids scale a giant wall and pretend to be astronauts working in space, the Star Walk allows them to walk through an imaginary galaxy, and a Tilt A World (Think a giant Google Map) uses satellite imagery to let kids zoom in on their home. Tweens will love Body Battles, an interactive laser tag-style game that teaches kids how our bodies fight illness. At the virtual reality area, there are several VR adventures to choose from (for kids ages 10 and up), but Minecraft lovers will enjoy Hydro Hero, an arcade-style game that teaches kids about the water cycle while earning points. And if you still have some energy, visit the 63-foot Sudekum Plantarium for immersive shows, tours of the night sky (with 6.5 million stars in view), laser shows and monthly artistic features. The planetarium also offers sensory-friendly shows for guests who are sensitive to light and sound.
Photo: Courtesy of Nashville Convention & Visitors Corporation.
2. Burst into song at the Musicians Hall of Fame & Museum
One simply cannot visit Music City and not squeeze in a little music and music history into their trip. The Musicians Hall of Fame & Museum celebrates some of the greatest musicians of all time with interactive exhibits and memorabilia including Jimi Hendrix's guitar and a replica of the studio where Elvis recorded his first demo—the vocal booth and walls were removed from American Studio in Memphis where his biggest (and last) number one record " Suspicious Minds" was recorded in 1969. Kids will love the interactive musical elements throughout the exhibits. There are recording booths for budding popstars, song mixing stations, a variety of instruments kiddos can play and even a karaoke area where little rockstars can belt out a tune.
Photo: Courtesy of Nashville Convention & Visitors Corporation.
3. Go wild at the Nashville Zoo 
The Nashville Zoo is home to more than 2,675 animals and 375 species. Divided into themed sections (like Expedition Peru: Trek of the Andean Bear, an exhibit that was created to feel like an authentic indigenous village) kids can see all kinds of animals as well as get some hands-on fun. At Critter Encounters, guests have the opportunity to brush a variety of goats or they can check out the Shell Station, where you can feed and pet Sulcata tortoises. Want to pet a kangaroo? The Kangaroo Kickabout lets you get up close to red kangaroos. Take a ride on the Wilderness Express Train and chug along for a short journey through a wooded area; it's perfect for the young (ages five and under) and young at heart! Stop at the women's bathroom (yep!) in the Expedition Peru: Trek of the Andean Bear exhibit where you'll find a floor-to-celling glass viewing area for the tamarin exhibit. Similarly, the men's washroom in Entry Village gives guests a peek at the pythons when nature calls. The zoo also boasts one of the largest community built playgrounds in the country. The 66,000-square foot Jungle Gym includes a 35-foot tall tree house, super slides, swings, and a giant snake tunnel. Pro tip: Walk around the zoo with your little monkeys first and do the playground last. Little tikes will burn off any extra energy there and they'll be fast asleep on the car ride home.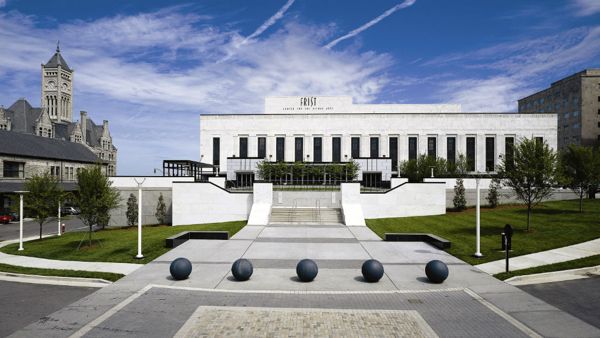 Photo: Courtesy of Nashville Convention & Visitors Corporation.
4. Create a masterpiece at the Frist Art Museum
The Frist Art Museum, located in Nashville's former U.S. Post Office building, aims to make art accessible for everyone; there are no permanent art installations and the constant rotation of travelling exhibits, ranging from photography and paintings to really cool sculptures, will inspire you to visit again and again. But the newly-renovated Martin ArtQuest Gallery, which opened in May 2018, is the real place to be for little ones! The hands-on art-making space was designed with kids and families in mind. Find  interactive art stations where kids can draw, paint, make stop-motion animation,  or try printmaking. A 16-foot interactive Everbright, (think giant Lite Brite,) and a full-body-animated digital painting experience let kids strike a pose and watch their body transform into colours and shapes on a wall mural. Bonus: The museum is free for kids 18 and under.
Photo: Courtesy of Nashville Convention & Visitors Corporation.
5. Catch a wave at Nashville Shores
Nashville Shores is located on the banks of Percy Priest Lake and boasts eight exciting slides, a lazy river and wave pool, but the coolest attraction is the new Aqua Park, an interactive, floating playground on the lake, that includes colourful interconnected water elements such as monkey bars, wiggle bridges, hurdles and more. While you're down by the lake, don't forget to catch a ride on a Banana Boat (for an extra fee) and play some volleyball on the beach. Life jackets are required and free for all guests. Little ones will also love Kowabunga Beach, a kid-friendly area that includes four water slides, water jets, tunnels and a giant bucket that tips gallons of water every five minutes, or so.  Pro tip: If you hate waiting in food lines, (and trust us your little mermaids are going to want a hamburger or hot dog from one of the quaint water-themed concession stand, like Pelican's Pantry), you may want to indulge in a private cabana for a fee of $150 to $175 per day. This VIP experience includes lounge chairs, arm chairs, beach towels, bottled water and two souvenir bottles, but the most appealing part is the private wait staff that will bring the food to you—no waiting in long lines! For guests who plan to stay longer, there are 24 cabins by the lake and four cabins close by on the hillside. Each one includes a kitchen, bathroom and beds (number and size based on the cabin you select.)
Photo: Courtesy of Nashville Convention & Visitors Corporation.
6. Sail through the trees at Treetop Adventure Park
Treetop Adventure Park is an adventure course located in the woods of Nashville Shores (with a separate entrance fee) and has tons of fun and challenging activities. Here you'll find suspended bridges, zip-lines, Tarzan swings and hanging nets. You'll need at least two and half hours to complete all the obstacles. Explorers can participate in the adult course (ages 12 and up), the junior course (ages nine to 11) or the children's course (ages seven to nine). But don't worry your little monkey won't be swinging all alone. Parents can use the areas along the children's course to walk and watch little ones complete the course.
Photo: Courtesy of Nashville Convention & Visitors Corporation.
7. Baby, you can drive my car at the Lane Motor Museum
Okay, so you can't actually drive these cars, but visitors can take seat  in a Citroën 2 CV and pose for a cute pic with their kiddo. The Lane Motor Museum is perfect for tiny car enthusiasts as it is one of the only car museums in America that specializes in European cars. There are over 500 cars and motor cycles in the collection with approximately 150 on display at one time, including one-of-a-kind vehicles, bicycles, and military vehicles. Guided by the flags hanging from the ceiling, visitors can take a walk through the history of vehicles from European, Asian, North and South American countries and learn how politics and economics influenced the design of each one. And when little speedsters need a break from all the motors and wheels, there's a play area that's fully stocked with car-themed toys and colouring.
Find out more about Lane Motor Museum
Some of the writer's costs were covered by Nashville Convention & Visitors Corp.