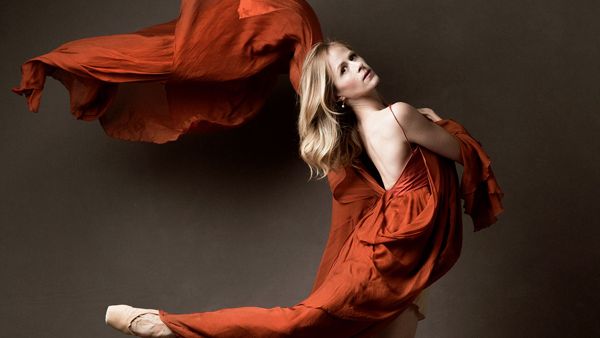 Photo courtesy of Karolina Kuras
National Ballet of Canada principal dancer Heather Ogden has two children with her fellow principal dancer, Guillaume Côté: Emma Rose, 2, and Léo Jeffrey, 11 months. During her pregnancy with Léo, she broke with centuries of ballet tradition and danced into her second trimester.
Ballet is such an aesthetic art form. You work tirelessly on getting the right shapes. It doesn't fit into that equation to have a bump. But why not? It's a beautiful time.
When I was pregnant with Léo, we were supposed to do a new creation by Robert Binet at the Art Gallery of Ontario (The Dreamers Ever Leave You). I knew I would be showing, but I told them that I felt good dancing and, if they were up for it, I would be up for it. Some people could tell, but some people couldn't. Those who knew I was pregnant thought it was kind of special. I definitely did.
It was a pleasant surprise to feel more energetic during my second pregnancy. I wasn't nauseous, and I wasn't completely floored with fatigue. I had come back from one baby already and knew that getting ready to dance again was a big job. I had some motivation to keep in shape as long as possible because it made me feel good—I'm used to being active. It made my comeback a smaller mountain to climb. I won't say it was easy, but I had a goal and I was driven.
Pilates played a big part in my routine while I was pregnant. The less I danced, the more I started doing Pilates. But there was no pressure on me at all to keep in shape. It was a nice time to watch this amazing thing happen to my body.
I think coming back after birth is when juggling becomes difficult. I try to compartmentalize my life so that I'm really present when I'm home. When I'm at work, I don't want to be wasting time. If I need to sew ribbons into my pointe shoes, I do it on my break. I just have to be much more organized. Emma loves ballet. We play classical music at home and she's like, "Wait, I need to get my tutu!" She saw a little bit of The Nutcracker once and she talks about it constantly. I wish I could bring them more often, but she wants to run around and be in the centre of the stage, which isn't always an option. Just like her mom!
Having kids has been the best thing that's ever happened to me. I've always wanted to be a mom. Everybody says you don't imagine loving someone like that. But I just feel like these two little kids are part of my heart, and you don't know that until you feel it. We had each other and we had our marriage, but when we had kids, it really felt like a family. Heather Ogden will play the Sugar Plum Fairy in The Nutcracker, running December 9 to 30 at the Four Seasons Centre for the Performing Arts (145 Queen Street West, Toronto). Find details at national.ballet.ca.