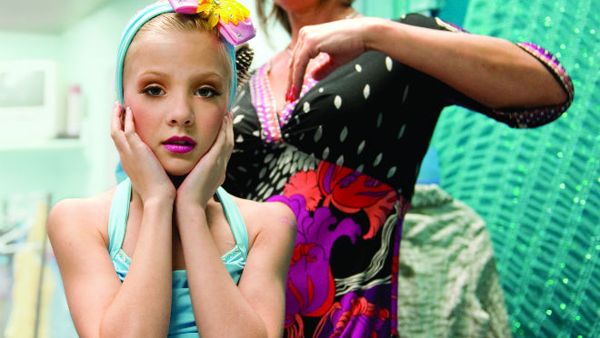 Photo courtesy of Lifetime.
"Please, Mommy?" my five- and three-year-old daughters ask as they try to arabesque in their nightgowns. They want me to sign them up for ballet, but two simple words have pretty much thwarted their efforts thus far: dance moms.
I'm not going to lie — when we're not watching Sofia the First, we're watching Dance Moms. The girls dig it for the dancing and the costumes. I dig it for the drama. The show follows the goings-on of the Abby Lee Dance Company in Pittsburgh, PA, where intimidating owner Abby Lee Miller choreographs numbers for her junior elite competition team. She's a good dose of scary, and so are her dancers' moms — women who bicker when their kids don't get solos, complain about costumes and critique each other's girls from the studio's viewing mezzanine. Sure, the ladies are amped for TV, but they're all self-confessed "stage moms," defined by urbandictionary.com (a pop-culture resource) as: "Pushy, obnoxious, crazy mothers who force their kids to act, model or enter beauty contests. Usually turning them into emotionally scarred adults who hate their parents."
I blame the spectre of the Scary Stage Mom as the reason I'm afraid to put my potential prima ballerinas into classes. Part of me wonders: Would I end up getting sucked into the world of competitive dance? Would I be a crazy dance mom?
Stage moms aren't exclusive to dance, of course — they exist in almost every elite activity or sport. It just seems that mothers who live through their daughters are big in pop culture at the moment. Dance Moms and Cheer Perfection have catapulted the term "stage moms" into our everyday vernacular.
The grandmother of the genre, Toddlers & Tiaras, which follows parents who enter their kids into beauty pageants, has been surrounded by controversy since it debuted in 2009, and for good reason: Four-year-old Skylar's mom trims her eyebrows before pageants; seven-year-old Holly's mom shaves her daughter's legs, douses her in self-tanner and takes her to the salon for highlights; and when little Cassidy won the title of princess instead of queen, her mom threw her crown in the parking lot and drove over it.
"Dance moms are freaking nuts," says Rhea Cohen,* a dancer for more than 30 years and a former studio owner (who wants to remain anonymous for obvious reasons). "The title is given by teachers to a mom who drives the studio staff insane; pushes her child way too hard; complains at every competition; sits in the audience and critiques kids; and makes everyone crazy backstage." Cohen's horror stories include parents who interrupted rehearsal to correct their kids, moms who tried to take over the choreography of routines, and someone who wouldn't pay her bill because she didn't feel her child was being pushed on a So You Think You Can Dance level.
"I always approached my studio from a schoolteacher perspective; I wanted every student to shine in her way and at her level. But that was never enough. There were moms who always wanted more," Cohen says. "They whispered to their daughters and overstepped my corrections. Not only was it rude, but it confused the kids because they didn't know who to listen to."
Amy Vance,* also a dancer and part-owner of a studio, says she's noticed that this generation of moms and dads is far more involved in their kids' activities than parents used to be.
"People don't like to relinquish control when it comes to their kids," she says. "And they want the experience to be exactly how they imagined it. We had a parent complain last year about a costume, because her daughter was given pants and she'd always imagined her kid in a tutu. Since she was paying for it, she wanted to choose the costume!"
Of course, there are many benefits for kids who participate in elite extracurriculars: Performing — on a stage, the ice, the field — gives kids discipline, boosts self-esteem and teaches teamwork, co-operation, sportsmanship, responsibility and respect. Kids also develop relationships with peers who share a common passion. "It's an interesting fact that at my studio, most of the students who dance more than six hours each week are also on the honour roll at school," says Vance.
Some parents might refuse to believe they fall into the stage mom category — they rationalize what they're doing as simply advocating for their kids. But Jamie Pfau, a Winnipeg mom of three — one budding artist, one football and hockey player, and one dancer — admits, "I have a bit of that in me. I think it's easy to become a stage mom. There's a fine line between being a positive resource to your children and breaking them."
Could you be one of them? If you've ever secretly tried to wiggle into your tween's tutu, or notice that everyone shoves in earplugs when you sit beside them on the bleachers, read on for expert tips to prevent your inner stage parent from taking over your kids' passions.
"I always tell parents to trust me — it's not in my best interest to, for example, hold a child back who's ready to move up," says Vance. "It's important that parents know that although I'm open to communication, I'm also in charge and will not cater to their every whim."
"I look out for Sadie," says Deborah Goldberg, a mom in Vaughan, Ont. "But I don't push or ask to get her ahead. When her teachers decide it's time for her to have a solo, she will." Goldberg drives Sadie, 5, to her classes, takes her for costume fittings and makes sure she's at extra rehearsals before competitions, but she doesn't pick fights with other mothers or argue about choreography with teachers. "I'm involved, but I don't overstep boundaries, and what her teachers say, goes. They're the professionals; I haven't worn a pair of tap shoes in more than 10 years."
Vance says that this is the kind of parental involvement and support that breeds enjoyment and success for everyone.
For Pfau, the key to whether or not to give her kids a push is recognizing whether they have a lack of interest, or if they're just frustrated, afraid or insecure about something. "If John said he didn't want to play hockey because his friends weren't on his team, I'd encourage him to keep playing and make new friends," she says.
Leisha Strachan, a professor at the University of Manitoba in Winnipeg whose research focuses on positive youth development in sports, says that this is the right approach: "Research has shown that a 'positive push' [persuading] in the short term might motivate youth to achieve." Geneviève Mageau, a psychology professor who studies parent-child relationships at the University of Montreal, agrees. "As long as the support doesn't lead to controlling behaviours, it's positive," she says.
Even though Goldberg has invested in Sadie's dance career to the tune of about $3,500 each season (not including travel and hotel expenses for four competitions per year) she isn't overbearing. "Any parent who pushes her child beyond the point of extracurricular enjoyment is doing them a disservice. Putting too much pressure on kids and making them feel like they're not good enough unless they get the highest scores, have the most solos and win the most prize money is so sad."
Don't live vicariously through her
"When I was a little girl, I dreamt of taking dance lessons. I danced on the lawn and I dreamt of having a life like Chloe does," says mom Christi Lukasiak of her daughter in the first season of Dance Moms. (Obsessive fan disclosure: I reached out to Christi for an interview, but didn't hear back.)
Early psychologists believed that parents sometimes transfer their unreached goals and ambitions onto their children, and according to a study published last June in the Public Library of Science journal, it's true. Results showed that the more a parent sees her child as an extension of herself, the more she wants that child to fulfill her own crushed dreams.
Vance can spot a student who doesn't want to be in class from a mile away. "I've seen too many kids who are trying to live up to some idea that their parents have. They spend all these hours in the studio when it's pretty obvious that dancing isn't their passion," she says.
Joan Grusec, a professor emeritus at the University of Toronto who runs the social development lab at the school's Child Study Centre, says, "Ultimately, we want children to engage in activities because they're intrinsically motivated — they want to dance or play sports, not because they're being forced by parents. If after a reasonable amount of encouragement the intrinsic enjoyment doesn't develop, it's time for a parent to stop pushing."
Ottawa mom Rachel Alexis agrees. "If your kid hates something that you love, suck it up and move on. Our job is to act as cheerleaders, chauffeurs and financial backers as our kids fulfill their own needs, not ours."
A version of this article appeared in our November 2013 issue with the headline "Are you one of those dance moms?", p. 105-6.