Oh yes, oh yes, it's Valentine's Day craft time! Don't worry, we're not telling your kids to do anything that will result in your having to vacuum up sprinkles for months to come. We are however using paint with two crafts, so break out the smocks (Dad/Mom's old work shirts). We love these three activities because they're super easy and provide a nice payoff. (Seriously, how much will Grandma love her celery rose Valentine?) Let's get started!
Heart-shaped cupcakes
Ages: 3 and up (with grownups doing the actual baking)
We discovered this delightful little trick last year and our favourite part remains its brilliant simplicity. Find your favourite cupcake recipe (or favourite cake mix) and prepare it as usual. After you've poured the batter into the paper cupcake liners, place a glass marble between the liner and the muffin tin. Bake the cupcakes with the marbles still in the pan and you'll end up with a slight heart indent. Look at you being all resourceful and not needing to get heart-shaped muffin tin! For extra Valentine's Day fun, prepare a cupcake topping bar for the kids with a couple options for frosting and sprinkles.
Shopping list: Cupcake liners Cake mix Marbles (but you probably already have some) Cake decorating supplies
Celery stamp valentine
Ages: 3 and up
The celery stamp might be a bit of a one trick pony when it comes to the produce-as-art supply milieu, but Valentine's Day is really its time to shine. This is because when you lop off all the celery stalks, the base resembles a rose.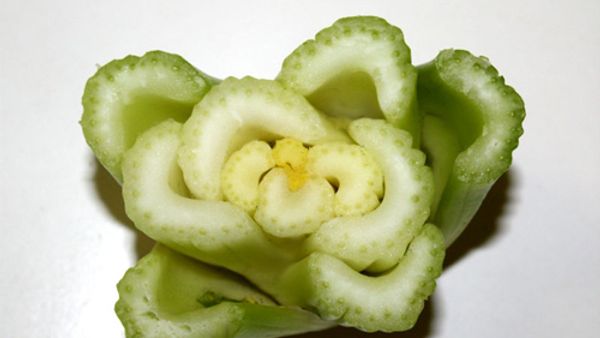 In addition to a head of celery, you'll need some tempera paint, something to act as a paint tray (we used a styrofoam plate), a blank card or construction paper and some markers.
Once you've cut down the celery head base to get your rose-shape, let it dry out a little on a dish towel. Also, you might want to test out your stamp on some practice paper to see if you need to adjust anything. After a couple of tests, we cut an extra centimetre or so off the celery base so our "rose petals" would be close together.
Pour out a little paint onto your paint tray and get stamping!
Once your paint is dry, add a stem and some leaves. You could outline the rose petals with a black marker, but we like the simplicity of no outline. Bonus: After creating these Valentine's Day masterpieces, reward the kids with some ants on a log.
Celery Card stock or construction paper Tempera paint
Read on to learn how to make heart doily T-shirts>


Heart doily T-shirts
Ages: 5 and up
We happened to have had blank canvas totes on hand, so we changed the gameplan ever-so-slightly. Please substitute whatever you want: skirts, aprons, dish towels, etc.
For this project, you'll need:some heart-shaped doilies, a blank T-shirt (or whatever), fabric paint, paint trays (again, we used styrofoam plates), a sponge paint roller and some newspaper to cover your work surface.
Pour out your paint, place your doily on the newspaper and run the paint roller through the fabric paint. Placing the doily right side up, roll on some paint. Next, carefully place it down on your t-shirt. To ensure even coverage, we placed another styrofoam plate on top of the doily and pressed it down. Then carefully lift up the doily and admire your craftiness. Depending on the size of the doily, your T-shirt might just have the one heart, or you might want to repeat the process to have a have multiple hearts. Since we used screen printing ink instead of regular fabric paint, we'll have to heat-set our creations with an iron.
Fair warning: You might want to pick up more than one T-shirt as this project is awful fun and there's a good chance you and the kids won't want to quit after just one. Heart T-shirts for everyone!
Shopping list: Heart-shaped doilies Plain T-shirts Fabric paint Sponge paint roller