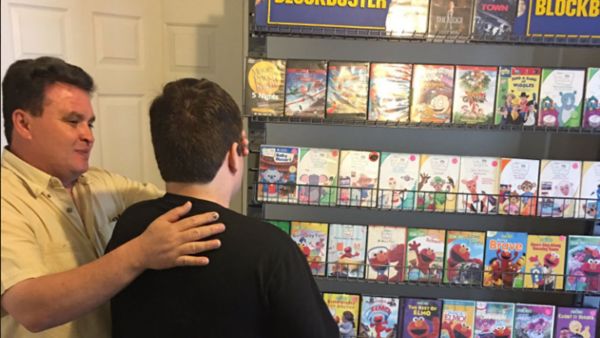 Photo: @Javiii_Zuniga via Twitter
We love Netflix nights in, but do you ever get a little nostalgic for those Friday-evening trips to the video store? Sadly, Blockbuster has been in its death throes for several years now. One young Texan, Hector Andres Zuniga, was particularly gutted when his local store shuttered this week. He has autism and going out to pick up his fave DVDs was a beloved part of his routine.
Happily, Hector's parents (Hector Sr. and Rosa) were one step ahead of the situation. And his younger brother, Javier, just tweeted a mini photo essay that gave us all the feels:
The boys' parents recreated a mini video store in their living room, complete with an authentic Blockbuster DVD rack. They stocked it with his beloved Elmo, Baby Einstein and Barney DVDs—all of Hector's favourites, going by the sheer delight on his face after his father showed him the big reveal.
We're thrilled for this VIP customer, and once we've located this pop-up Blockbusters branch, we'll be right over with the popcorn.