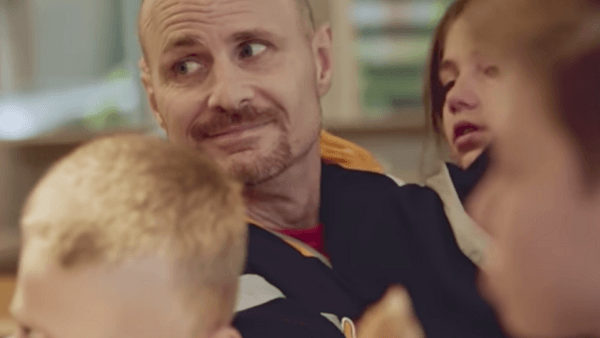 Photo: WestJet via YouTube
"To say it was the hardest days of our lives is an understatement," says Troy Hunt, as he recalls the day his 13-year-old son, Darian,
was diagnosed with leukemia
, in a video with a happy ending that WestJet just released for Father's Day.
"Coach Dad" has already racked up close to 5.5 million views in 48 hours—and we suspect you could fill an Olympic swimming pool with all the tears people have shed in front of their screens.
Troy, a father-of-two and peewee minor league hockey coach, left his hometown of Clarenville, Nfld, with his wife, Neda Hunt, and their son two months ago, so Darian could receive treatment at Sick Kids Hospital in Toronto. Troy was found to be a stem cell match, and acted as Darian's transplant donor.
The Hunts left behind their ten-year-old daughter, Kaiya, so she could continue with her schooling and normal routine surrounded by friends. It has nonetheless been difficult for all.
"It's been two months since I've seen my family," says Kaiya, in her coastal hometown. "It gets really lonely."
"I love my little girl; she's my princess; I miss her so much," shares Troy, back at Ronald McDonald House, where the Hunts have been staying.
"If I had one wish it would be that we could bring our family together," says Neda. 
Then we see Kaiya and the players of the Clarenville Caribous, the hockey team that Troy coaches, at the local arena. They learn that they're going to surprise the Hunt family in Toronto. Brimming with excitement, they leave for the airport.
The video cuts from the kids on a plane to the hallway outside the Hunts' room. There's a knock at the door. Troy opens up, and a WestJet employee announces: "We know Father's Day's approaching, so we got you a little surprise."
Troy looks down the hallway, gasps, then looks the other way for a moment in shock, before turning back to take in the sight of his daughter grinning at him, her arms wide open. They hug without holding back the happy tears, and Neda quickly joins them for an emotional family reunion.
Then joined by Darian in a wheelchair, the whole family walks down the hallway and enters a darkened room. The lights go on, and there are the Clarenville Caribous—Darian's teammates and friends—in full hockey gear. The team tap their sticks in a circle, then everybody cheers and runs over to embrace their coach and reunite with their friend.
"When he woke up this morning it was a bit of a rough morning," says Troy about Darian pre-reunion. "And when he saw his friends he went from not feeling great to probably one of the best days that he's had since he's been here. It was amazing just watching… watching him interact and smile and be a kid."
"When he saw his friends, I saw the light in his eyes that's usually there," adds Neda, her voice cracking. "He needed it."
The family and their hometown friends spent the rest of the afternoon having pizza together, playing shinny hockey, and catching up. "It just felt good to be normal again," says Troy.
The video ends with a message:
To the coaches, friends and fathers who put their family first, Happy Father's Day.
And we at Today's Parent have a message too for the lovely family in this viral video: Stay strong, Hunts—keep healing, Darian—and we hope you're all back home together in Newfoundland very, very soon!