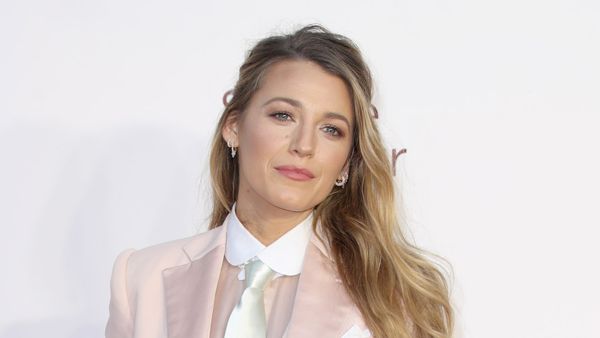 Photo: Getty Images/Mike Marsland
While celebrities choose a life in the spotlight, their children don't—and yet, ruthless paparazzi are constantly trying to snap photos of these innocent bystanders, to the point where what should be a stress-free outing can end up being downright frightening. But fans wouldn't necessarily know this, so mom-of-three Blake Lively called out the Daily Mail Australia for a recent misleading post.
The Instagram post shows Blake walking outside carrying one of her three young children on her hip as she pushes the other two in a stroller. This is beside another snap of the actress smiling and waving solo.
The famous mom, who shares daughters James, 6, Inez, 4, and 21-month-old Betty with Ryan Reynolds, took to the comments section to criticize the "deceitful" images, explaining the story behind the photos and how scary it was for her kids to be stalked by paparazzi all day long.
"You edit together these images together to look like I'm happily waving. But that is deceitful. The real story is: My children were being stalked by a men all day. Jumping out. And then Hiding," Blake wrote. "When I tried to calmly approach the photographer you hired to take these pictures in order to speak to him, he would run away. And jump out again at the next block."
Blake then called out the ethics of the tabloid, saying, "Do you do background checks on the photographs you pay to stalk children? Where is your morality here? I would like to know. Or do you simply not care about the safety of children?"
As if taking three children anywhere isn't stressful enough, this is just heartbreaking. Blake says she was able to successfully shoo off some of the photogs—those who would actually talk to her—by agreeing to "smile and wave" for a photo away from her kids, noting that a solo snap was the only way she could provide her little ones an escape from the "frightening" situation.
The photos have since been taken down from the Daily Mail Australia's Instagram page (after Blake called for them to be deleted), and many celebrities are speaking out in support of Blake, including Gigi Hadid, who recently penned an open letter asking for her daughter's face to be blurred in pap photos. "Bravo," wrote the model and new mom in an Instagram story, tagging Blake and re-sharing her paparazzi call-out.
In a second Instagram comment, Blake urged the public to block and unfollow outlets who post photos of celeb kids' faces. "Feel free to report them. Or send a dm sharing why you don't follow them," she continued, explaining that these are simple ways to bring an end to paparazzi terrorizing children. "All are trying to service an audience," she added. "So if that audience makes it clear they don't want something—like photos of children obtained by men frightening and stalking them—the publication or account will do what the audience wants. It's the only way that so many have already stopped. Because the people demanded it."
She summed up her comment by saying, "It's f*cking scary," and our hearts go out to her.
Blake is one of the most recent celebrities to speak out against paparazzi photographing famous kids, joining a growing roster of celebs dedicated to the same cause, including Sophie Turner, Jennifer Garner, Ashton Kutcher and Mila Kunis, and Prince Harry and Meghan Markle.
In 2014, Kristen Bell and Dax Shepard established the No Kids Policy after welcoming their first child, which later became a Californian law restricting paparazzi from taking photos of celebrity children. Unfortunately, it doesn't look like New York City, where Blake was walking with her girls, has followed suit.