Looking for ways to chronicle your new addition's life in an easy and digital format, from first moments to first steps? Look no further—check out our favourite digital baby book solutions.
1. Blurb One of the most popular DIY book developers around, Blurb's easy-to-use interface lets users create custom baby books by uploading images from social media sites, such as Facebook and Instagram, or files straight off the computer. An array of customized and pre-set layout options and design platforms allow users to create a truly unique coffee-table baby book. Prices start at $13 for a 20-page softcover book.
Photo: Trever Connell for Blurb
2. My Family app Take all those adorable photos and videos and turn them into a Storybook. Download our app (it's personalized to your kid's age and stage) and then start making Storybooks for all your little one's big moments—first smile, first food, first step!
3. Treasured An online archive for your special moments, Treasured is a relatively new online-only resource created by a British software engineer and her husband. It's basically a cloud service that allows users to upload photos and text to private "memory boxes," and the ability to grant access to these boxes to friends and family members. Depending on the storage you need, plans can range from free to $15 per month. One of the main advantages to using "the cloud" over a baby book is that it takes up no space on a bookshelf or in a dusty corner of your attic. The company plans to develop a printed books option later this year.
4. My Social Book Facebook is great, but it's sometimes tricky to find specific moments on your timeline. Now you can compile all of your favourite Facebook updates—entire albums, specific photos, statuses and all—in a creatively designed hardcover called My Social Book. Users can upload social media content dating back from 2007. Prices start at $17 for a 25-page book.
If you're the type of person who actively scours for unique and sentimental ways to share special moments in your life, look no further! Not only can you document your baby's development on glossy pages, much like Blurb, Pinhole also offers fun and different format options such as custom photo puzzles ($25 for a 12-piece puzzle), board games (like memory cards customized with photos of your kids, pets or family members, starting at $20), or customized notebooks and journals (starting at $15 for a set of three). A simple-to-follow interface makes it easy for beginners to design like seasoned pros.
6. Prinstagram This hip memory preserver is directly linked to your Instagram account. Celebrating three years and millions of photos printed, Social Print Studio will print your Instagram-filtered photos onto just about anything. Choose specific photos or incorporate your entire feed to document your baby's growth via a coffee-table baby book, cute spiral-bound flip books, itty-bitty magnetic "tinybooks" (about the size of a matchbook), photo stickers or photo magnets (15 magnets for $12). You can even include your #favourite captions and #hashtags.
Photo:  The Name's Pony Boy
7. Wooden blocks They grow up so fast! These block sets help you share the cuteness and mark the milestones by incorporating an easy prop—and built-in time-stamp—into the photo. Pose your baby with the blocks each month (or week, if you're really dedicated) and upload onto social media, creating a digital timeline for all your friends and family to see.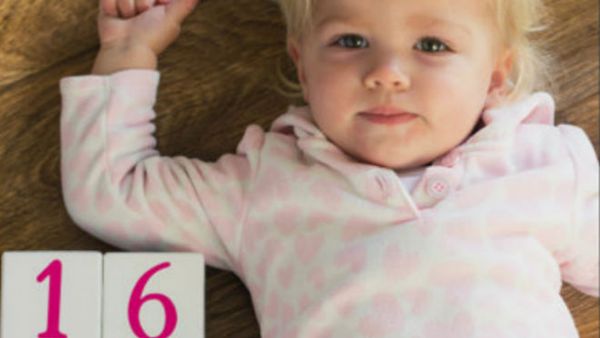 Photo: Chickadee age blocks via Etsy
8. Chalkboard props Pick up a small chalkboard at a craft or office-supply store and create a digital timeline by snapping pics of baby with different dates and milestones.
Photo: Becoming the Barr's via Pinterest